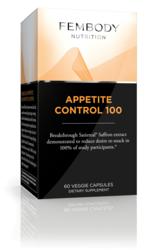 Tampa, Florida (PRWEB) February 21, 2012
Recently featured on a popular TV show, non-GMO Satiereal® Saffron Extract is an appetite control ingredient that can help reduce emotional eating. Fembody™ is proud to introduce Appetite Control 100™, a formula that features this trademarked saffron extract that encourages weight loss while helping reduce occasional stress and frustration.*†
Satiereal® Saffron Extract is a breakthrough patent-pending, clinically-tested ingredient derived from the flowers of saffron crocus Crocus sativus L. that seeks to address the cause of overeating.*†
Double-blind placebo controlled clinical studies show Satiereal® may increase satiety, decrease hunger, and reduce sugar cravings. By helping to reduce occasional stress and tension and support a positive attitude, a majority of participants enjoyed a state of satiety. There was also a 100% reduction in the desire to snack between meals. Prevention of snacking may lead to a reduction in weight and inches, an increase in energy, and a better mood.*†
Appetite Control 100™ with Satiereal® is stimulant-free and caffeine-free, and can be taken in the evening to avoid late-night snacking.*†
Appetite Control 100™ delivers 88.25mg of Satiereal® Saffron Extract per serving. This formula is gluten-free and suitable for vegetarians.*
Appetite Control 100™ retails for $39.99 and is exclusively available in select GNC stores and online at gnc.com.
About Fembody™:
Fembody™ Nutrition delivers unparalleled nutritional support to women who strive to be the best. With naturally derived, premium supplements based on clinically tested ingredients to help support the areas where females desire additional support, Fembody™ Nutrition empowers women to support their personal wellness goals by helping them achieve real results. Fembody™ Nutrition's advanced, innovative formulas include scientifically research ingredients. For the ultimate in health, wellness and beauty, Fembody™ Nutrition offers no compromise.* To learn more about Fembody™ Nutrition 's elite line of products, please visit fembodynutrition.com or call 888-778-9110.
Satiereal® is a trademark of INOREAL. International patents pending.
† When used as part of a reduced calorie diet and exercise program. Results may vary. The results in the study with Satiereal® were obtained after 8 weeks of use. Participants experienced moderate weight loss.

These statements have not been evaluated by the Food and Drug Administration. This product is not intended to diagnose, treat, cure or prevent any disease.
###