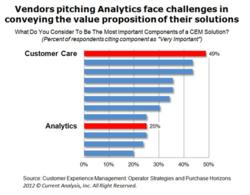 Sterling, VA (PRWEB) February 22, 2012
Equipment vendors and IT services companies alike are trying to establish themselves as the "go to" partner for comprehensive CEM solutions. In an aggressive effort to differentiate, many CEM vendors are making Analytics a vital focus of their go-to-market value proposition, pitching a holistic, cross-organizational system designed to help operators further monetize their adoption of CEM solutions. However, in its latest primary research study, Customer Experience Management: Operator Strategies and Purchase Horizons, Current Analysis, the market leader in real-time, tactical competitive intelligence for the telecommunications and information technology markets, finds that Analytics, as a component of buying criteria, currently ranks near the bottom in importance to operators looking to roll out CEM solutions.
"According to our study, one-third of North American and European telecom network operators will be purchasing Customer CEM solutions in 2012, " says Tim Dowd, CEO, Current Analysis, "but vendors vying for these dollars are out of sync with the key purchasing drivers and perceptions of operators. Our new study reveals how CEM buying decisions will be made and how key vendors are perceived in the space. More importantly, it points to the best way vendors can position themselves within the operator organization."
Traditionally, CEM analytics have been used to gather network operating statistics that assist operators with customer help desk and issue resolution. Now, vendors are positioning their pervasive analytics capabilities as a lynchpin for operators in unlocking further CEM monetization opportunities through high value customer segmentation, strategic services pricing, customer marketing and even new services development. In spite of this, Current Analysis findings suggest that operators are still focused on the "nuts and bolts" of CEM such as customer care and billing, and have yet to fully accept the value of a comprehensive, cross-organizational approach as they gear up for CEM deployment.
"CEM vendors have clearly made Analytics a key focus of their value proposition and differentiation in the marketplace," states Jason Marcheck, Custom Research Director, Current Analysis. "Our findings indicate that, with operators still focused mainly on using CEM to resolve customer care issues, the Analytics-based value proposition needs to be based more on practical business outcomes rather than on the technical capabilities that Analytics solutions possess." Marcheck continues, "In order to be competitive, vendors need to do a better job of helping operators understand the value analytics has in terms of cross-organizational monetization opportunities and, more importantly, make that value proposition digestible to multiple stakeholders within an operator organization."
Current Analysis collected the responses of more than 75 telecom network operators in North America and Europe from December, 2011 through January, 2012. Other study findings include how far along operators are in the development and organization of CEM strategies, operator goals and objectives for implementing a comprehensive CEM solution, how operators plan to implement their CEM solutions, and which vendors they are most likely to use when purchasing decisions are made.
For more information on the Customer Experience Management: Operator Strategies and Purchase Horizons study, visit http://www.currentanalysis.com/custom/CEM/
About Current Analysis
Current Analysis (http://www.currentanalysis.com) is the only provider of continuous, in-depth tactical competitive intelligence, analysis and advice in the telecommunications and information technology industries. Current Analysis helps clients anticipate and quickly respond to market opportunities and competitive threats. Sales teams, product managers, marketing professionals and executives rely on Current Analysis to differentiate themselves in the marketplace, be more competitive and win more business. The company is a valuable partner to more than 30,000 professionals at over 200 global enterprises. For more information, visit http://www.currentanalysis.com.
###