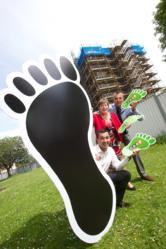 EcoPod has already proved to be an outstanding solution for reducing fuel bills - by over 40% in some cases - and carbon emissions.
(PRWEB UK) 22 February 2012
Leading UK energy services company, Carillion, is teaming up with the Warrington based Belfry Group to exclusively market and install its award-winning, revolutionary heating system EcoPod, which can virtually halve energy costs and emissions in a wide range of buildings.
EcoPod reduces carbon emissions and energy costs by using a combination of renewable technologies, in a self contained system retro-fitted to existing and new buildings. Clients include local authorities, housing associations, trusts and commercial and industrial property owners and schools.
Carillion Energy Services is one of the largest national suppliers of heating and renewable energy. The collaboration agreement gives Carillion the exclusive right to market, sell and install the EcoPod system.
Carillion Energy Services director Phil Shepley says, "EcoPod has already proved to be an outstanding solution for reducing fuel bills – by over 40% in some cases – and carbon emissions. A major benefit is that it allows renewable energy solutions to be introduced into large apartment blocks and, for the fuel poor, EcoPod brings significant reductions in energy costs to those who need it most.
"The EcoPod system was invented and developed by Keith Rimmer, Managing Director of the Belfry Group and has already had tremendous success. Combining with Carillion means that we can now bring EcoPod to a wider customer base and we will have the delivery capability to expand the use of EcoPod across the public and private sectors and in domestic and commercial applications.
"Carillion has an exclusive licence to provide EcoPod to customers worldwide and by investing in this innovative system, we can build on the current installations around Manchester and Liverpool. Collaborating with the Belfry Group in this way allows us to further develop a sustainable business in line with our 2020 Strategy for Sustainability," added Phil, Sector Director – Public and Commercial, for Carillion Energy Services.
Keith Rimmer, Managing Director of the Belfry Group, says, "Carillion Energy Services shared our vision for the future of EcoPod and are excited at the prospect of driving it to the forefront of the renewable energy market."
Key benefits of EcoPod include:

Retro fit to apartment blocks, hotels, schools, hospitals and office blocks
Minimal disruption to residents, tenants, customers
Certified saving of 40%+ on annual heating bills
No need to have gas safety certificates for each home
Alleviates the need for L8 water testing in each home
No maintenance required in domestic homes
Significantly lowers carbon emissions
EcoPod is delivered to site fully commissioned and working ready to be lifted by crane into position. The pre-prepared reinforced steel base the EcoPod is lowered onto ensures good weight distribution and provides a solid foundation. If installation on the roof is not suitable, the system can also be installed within a building.
For further information:
Jane Smith Carillion Corporate Communications Manager 01902 316620
About EcoPod
EcoPod was voted 2011 Project of the Year by leading trade publication Heating and Ventilating News for Chartist House in Hyde, Manchester.
The project consisted of a 16-storey high-rise block and technology used included the EcoPod system, featuring a thermal solar, bespoke building management system, cascade boilers, thermal stores, inverter smart circulation pumps and a plastic high riser system.
The modular plant room was constructed off-site and lifted onto the roof for final fitting. The project also included the fitting of 96 heat monitors within heat distribution units, installed within each apartment. The building management system provides real-time web-based monitoring and 24-hour access.
With benefits for vulnerable people and fire protection options for all, the EcoPod system has reduced carbon emissions from 160,000 kg to 69,000 kg.
LED lighting and inverter packs were also installed, allowing the project to achieve a reduction in fuel costs of 50 per cent and addressing fuel poverty issues, with savings passed directly to the client. As there is no stored DHW or individual gas boilers, no L8 testing or landlord gas certification is required.
About Carillion
Carillion is a leading support services company with a substantial portfolio of Public Private Partnership projects and extensive construction capabilities. The Group had annual revenue in 2010 of £5.1 billion, employs around 50,000 people and operates across the UK, in the Middle East and Canada.
The Group has four business segments.
Support services – this includes facilities management, facilities services, energy services, utility services, road maintenance, rail services and consultancy services.
Public Private Partnership (PPP) projects – this includes our investing activities in PPP projects in our chosen sectors of Defence, Health, Education, Transport, Secure and other Government accommodation.
Middle East construction services – this includes our building and civil engineering activities in the Middle East.
Construction services (excluding the Middle East) – this includes building, civil engineering and our development activities in the UK and our construction activities in Canada.
About Belfry Group
Since 1993, Belfry Group has offered an increasing range of building, maintenance, security and cleaning services to clients in a wide variety of markets in the United Kingdom.
From retail shopping centres to Colleges and Schools, from blue chip organisations to regional housing associations, from telecommunication giants to business park management, from industrial complexes to fast food outlets, Belfry Group are renowned for the provision of quality, service and value for money to customers.
We pride ourselves on offering a personal, localised service to our clients, using only our own In-house approved qualified staff engineers and specialist contractors to ensure we achieve absolute customer satisfaction throughout England, Scotland and Wales.
Unlike others, Belfry provides a 24 hour emergency call out service with no mileage charges or travel charges. Because we do not use call centres, when you call Belfry you will always be able to access a fully qualified and experienced member of our management team to assist you in resolving your problem.
###