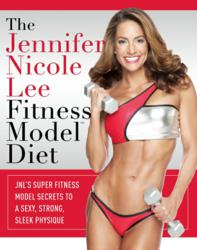 Jennifer Nicole Lee's management team has confirmed she will be making a celebrity appearance at the Arnold Schwarzenegger Classic in Columbus Ohio March 2-4th 2012. JNL will be at the BSN Booth signing autographs and meeting her fans in Columbus, Ohio.
Miami, Fl (PRWEB) February 22, 2012
Bestselling author and mega-brand Jennifer Nicole Lee will be at the BSN booth meeting and greeting her fans at the world's largest sports festival, The Arnold Schwarzenegger Classic in Columbus Ohio March 2-4th 2012. This marks JNL's fifth year attending this event. She states "I love to meet my fans face to face at such a huge fitness expo, at the BSN booth, where Im a proud BSN athlete. It's so awe-inspiring to know just how far so many fans have come to enjoy this second to none first class fitness event."
Jennifer Nicole Lee will also be offering her http://www.JNLClothing.com line of apparel to her fans who come to her booth. Her JNL Clothing line started off with her now world famous tag line of "Strong is the New Skinny", which then led to "Kiss My Abs", and also "Glutes That Salute". She will be also autographing her two bestselling books "The Mind Body and Soul Diet" which is described as a complete transformational guide to health, healing and happiness and her "Fitness Model Diet Book".
Soon she will be releasing her fourth book, which is her first ever full fledge cook book, even though her first two books also include recipes and food planning guides for healthy eating. "The Jennifer Nicole Lee Fun Fit Foodie Cook Book" will be available this April 2012 at her website.
Jennifer is also known as the creator of the JNL Fusion Workout method, which has been captured onto a 12 exercise DVD complete box set, with accessories such as a 30 second timer, and also a cordless jump rope for indoor at home use. Her training method is a worldwide fitness revolution, due to the fact it focuses on "super spiking", the result that is achieved when cardio bursts are weaved in between strength conditioning and weight training exercises.
For more info, please visit http://www.JenniferNicoleLee.com
###