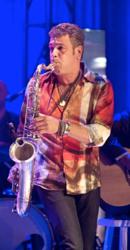 If you are a rock and roll fan, what better way to spend your night and at the same time helping an incredibly worthy cause...
(PRWEB) February 23, 2012
An amazing contingent of rock and roll's most respected musicians have agreed to take the stage together and provide the evening's entertainment at Joseph, Greenwald & Laake's (http://www.jgllaw.com) "Law of Rock and Roll" Benefit to be held on March 23, 2012 at the Marriott North Bethesda in suburban Maryland.
Mark Rivera--the long time sax man for the Piano Man himself, Billy Joel—joins Jeff Kazee in fronting a once in a lifetime nine piece rock and roll magic act that will entertain approximately 300 party goers. Kazee, the multi-talented keyboardist and bandleader for the legendary New Jersey band "Southside Johnny and the Asbury Jukes", recently produced the Jukes' latest Album, the critically-acclaimed "Pills & Ammo", while also recording with American Idol's Crystal Bowersox, Bon Jovi and others.
Rivera has played with Billy Joel and his band since 1982. In addition, he has worked with Foreigner, Hall and Oates, Peter Gabriel, John Lennon, Billy Ocean and is the Musical Director for a Beatle--Ringo Starr! Rivera recently joined Joel and Bruce Springsteen to rock the stage at the Rock and Roll Hall of Fame Concert at Madison Square Garden.
Often compared to Janis Joplin and Tina Turner, Independence Music Award Winner, Danielia Cotton will bring her own brand of rock and soul to the stage.
Filling out the lineup will be Shawn Pelton, longtime drummer for the Saturday Night Live band; Tommy Byrnes (Billy Joel, Stray Cats) on guitar; Tony Tino (Gavin Degraw) on bass; Jeffrey Lee Campbell (Sting) on guitar; and two members of Southside Johnny and the Asbury Jukes legendary horn section, Chris Anderson on trumpet and Neal "The Dude" Pawley on trombone.
The benefit will raise funds for "A Wider Circle" (http://www.awidercircle.org), a Washington DC based charity that provides goods and services to thousands of impoverished families in the metropolitan area.
"Jeff has worked tirelessly to put together an amazing group for us. If you are a rock and roll fan, what better way to spend your night and at the same time helping an incredibly worthy cause… I don't expect too many people will be sitting down, that's for sure", says David Bulitt, JGL's Assistant Managing Director and Chair of the event.
This is not the first time that the law firm of Joseph, Greenwald & Laake has put its energy and resources behind a local charity. In 2008, the law firm hosted a 40th Anniversary Rock and Roll Benefit in Greenbelt Maryland and raised more than $30,000.00 for the Housing Initiative Partnership.
Joseph Greenwald & Laake is a full service law firm with 35 lawyers, practicing in several areas, including family law, business, real estate, trust and estates, tax, criminal, employment, civil rights, personal injury and medical negligence. JGL serves local and national clients in Washington, DC, and throughout Maryland. It has offices in Montgomery, Prince George's and Howard Counties.
Learn more about JGL at http://www.jgllaw.com.
###