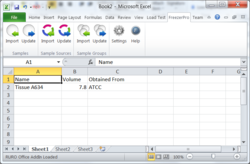 Our innovation comes directly from customer feedback and the desire to become more user focused.
Frederick, MD (PRWEB) February 23, 2012
RURO, Inc., a developer of research software and inventory solutions announced today that it has successfully integrated its FreezerPro 2012 edition with Microsoft Excel. The Excel AddOn is provided to the user in a zip folder. It comes with on screen instructions and literally takes less than three minutes to install.
1. With the Microsoft Excel (PC) AddOn software, a user can perform Import and Update FreezerPro Samples, Sample Sources, and Sample Groups without leaving the familiar Excel environment.
2. Data management has never been easier. The integrated Excel tab allows users to "data-dump" with a simple click of the mouse.
3. Quick-start templates are provided.
For more information please visit http://www.ruro.com/support/knowledge-base/excel_plugin
"FreezerPro continues to lead the charge as the premier brand in our growing portfolio. We believe that consistent improvement and innovation are needed with all of our products. We want the FreezerPro brand to be recognized as the gold standard for frozen inventory solutions. I have charged our engineering team with the task of making our products more intuitive and efficient. Our innovation comes directly from customer feedback and the desire to become more user focused." says RURO's Systems Architect, Vlad Lebedev.
About RURO Headquartered in the heart of Maryland's biotechnology corridor RURO develops state of the art computer software and RFID solutions for research, biotechnological, pharmaceutical, healthcare and government (homeland security) laboratories in the US and worldwide.
Our RURO Smart RFID program was designed specifically for life sciences applications that will benefit from enhanced accuracy, safety, security and productivity that RFID technology enables while reducing the costs, implementation time and overall risks associated with deployment.
For more information please visit RURO online at http://www.RURO.com.
FreezerPro is a trademark of RURO, Inc. Excel is a trademark of Microsoft. Other product and service names might be trademarks of other companies.
###