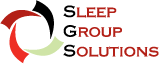 We are excited about this new partnership with SGS and are looking forward to teaching dentists how they can save lives.
Phoenix, AZ (PRWEB) February 22, 2012
Sleep Group Solutions offers over 60 dental continuing education seminars annually. With a focus in Dental Sleep Medicine, Sleep Group Solutions remains a leader in dental continuing education, training thousands of dentists how to properly screen and treat sleep apnea. SGS is pleased to announce a new lab partnership with Gergen's Orthodontic Lab, which will add an in depth, hands on oral appliance overview to the seminars.
With such an increased demand for sleep disordered breathing appliances, SGS is teaming up with dental labs, such as Gergen's Orthodontic Lab to offer attendees a turn key solution for their sleep apnea practice, and patients. David Gergen of Gergen's Orthodontic Lab has seen a huge demand by his dental clients to incorporate the treatment of sleep apnea into their practice. "I have been training offices across the country on the use of the Sleep Herbst and the Respire appliance. These appliances are in huge demand. For example, Chief Dental Sleep Director Brittany DeFrank from Lone Star Dental Sleep Medicine, says they have successfully treated over 40 patients with these appliances in just one month time." David adds, "We are excited about this new partnership with SGS and are looking forward to teaching dentists how they can save lives."
Sleep Group Solutions have added two new seminars with Gergen's Orthodontic Lab to the calendar. Myrtle Beach on March 16/17 and Phoenix on May 4/5. To register for these courses, or to see the course layout please log onto SleepGS.com.
 About Gergen's Orthodontic Lab
Gergen's Orthodontic Lab specialize in fabricating orthodontic appliances such as TMJ Splints, Flippers, and Retainers, as well as all types of functional appliances such as the Respire, Herbsts, Bionators, and Twin Blocks. Most successful businesses and their customers will readily agree that such long-term dedication invariably results in a highly trained and fully competent team that produces work of consistently exceptional quality. The Gergen's staff does just that as we provide complete service in every phase of design and fabrication of our appliances for the orthodontist and general dentist.
 
David Gergen has been a nationally respected dental lab technician for over 25 years. He received the award for "The Finest Orthodontic Technician in the Country" given by Columbus Dental in 1986. He also received in 2012 a lifetime achievement award by the Gelb Academy as Americas greatest Orthodontic technician of all time. He has worked for some of the pioneers in the orthodontic and sleep dentistry fields. He was the personal technician for the likes of Dr. Robert Ricketts, Dr. Ronald Roth, Dr. A. Paul Serrano, Dr. Clark Jones, Dr. Harold Gelb, Dr. Joseph R. Cohen, Dr Rodney Willey and Dr. Thiem Pham. He started his lab in 1984 and has grown it into one of the most respected labs in the country employing over 50 people. One of his proudest achievements is receiving The National Leadership award for Arizona Small Businessman of the Year in 2004.
*Gergen's Orthodontic Lab is opening a new office in Peoria Illinois 11825 State Route 40 Dunlap, IL. 61525, 309-696-6023. This lab will be headed by David Gergen II , David has worked in the dental field for seven years and continues excel in this industry.
About Sleep Group Solution
Sleep Group Solutions is an airway diagnostic technology company serving the needs of physicians and dentists interested in screening, diagnosing and treating sleep apnea and other upper airway disorders.  Sleep Group Solutions offers the latest screening and diagnostic equipment solutions for patients with allergy, sinus congestion, rhinitis, deviated septum, nasal polyps, snoring and sleep apnea.  SGS offers the most comprehensive dental sleep medicine CE seminars in the industry focused on teaching dentists the protocols needed to make the treatment of snoring and sleep apnea part of their practice.  SGS offers sleep study interpretation, oral appliances (Norad Boil & Bite, Respire), online dental directory 1800SleepLab.com and online marketing for CPAP Alternatives at Sleeptest.com. SGS is the exclusive dental distributor for Natus/Embla and is the manufacturer of the Eccovision Systems Rhinometer and Pharyngometer.
# # #