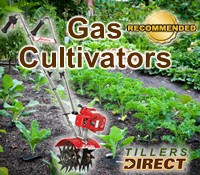 Look for gas cultivators with adjustable tines and tilling widths so you have even more maneuverability while weeding and aerating your garden
Bolingbrook, IL (PRWEB) February 21, 2012
Today TillersDirect.com announced its recommendations for best gas-powered cultivators.
"These light weight gas-powered cultivators are versatile garden tools," said Bob Crewe, resident product expert at Tillers Direct, one of the fastest growing e-commerce companies in the United States. "Look for models with adjustable tines and tilling widths so you have even more maneuverability while weeding and aerating your garden."
Most retailers are loyal to whatever is on their shelves, added Crewe.
Top Gas-Powered Cultivators
Good: Earthquake MC43 (6"/10") 43cc 2-Cycle Forward Rotating Mini Cultivator
Better: Troy-Bilt TB146EC (8") 4-Cycle Gas-Powered Forward Rotating Front Tine Cultivator
Best: Mantis 7225-15-02 (9") 21.2cc Gas 2-Cycle Dual Rotating Cultivator/Mini Tiller w/ Free Kickstand & Border Edger
TillersDirect.com, however, isn't your ordinary retailer. The online superstore specializes exclusively in cultivators, front tine tillers, rear tine tillers and attachments. The site currently offers several 2-cycle and 4-cycle cultivators from many leading national brands.
The online retailer combined retail prices, recent sales history, customer reviews and personal insight to generate its final cultivator recommendations.
Once the dust and data settled, only 3 gas cultivators sold by TillersDirect.com were given its prestigious "Recommended" status.
In addition, Crewe personally wrote online reviews for each gas-powered cultivator, explaining why the company recommended it.
By providing the recommendations and reviews, TillersDirect.com hopes to arm shoppers with enough ammunition to pick the perfect gas cultivator for their needs.
Power Equipment Direct operates 10 niche online superstores. In addition to TillersDirect.com, the Bolingbrook, IL-based company operates AirCompressorsDirect, ChainSawsDirect, ElectricGeneratorsDirect, LogSplittersDirect, MowersDirect, PressureWashersDirect, SnowBlowersDirect, SumpPumpsDirect and WaterPumpsDirect.
###