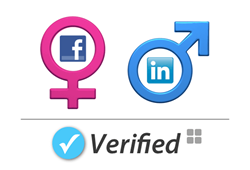 This seems to indicate that males tend to want to prove their job status whereas women prefer to verify their social status.
(PRWEB UK) 27 February 2012
Online dating site Lovestruck.com's groundbreaking profile verification service, Lovestruck Verified, has revealed a huge difference in what matters to male and female members when authenticating their dating profile.
Lovestruck Verified helps their single professional member base prove to potential matches that they are who they say they are by enabling Lovestruck to cross-check their dating profile against the 'Big 3' social IDs: Linkedin, Twitter and Facebook.
London dating site Lovestruck's Managing Director, Brett Harding, said "There's a clear preference for each gender: Male members are 36% more likely than females to verify their profile – including job title – against their Linkedin account, whereas our female members are 39% more likely than their counterparts to request us to cross-check against their photo, age and relationship status via Facebook. Twitter, it appears, shows no difference between the sexes, and has the lowest take-up of the three. This seems to indicate that, first and foremost, males tend to want to prove their job status whereas women prefer to verify their social status."
The free-to-verify service has been a huge hit with members across Lovestruck's London, Hong Kong and Singapore sites. Harding adds "Authenticity is king on the web, and the dating world will soon be no exception as consumers begin to expect potential dates to have been vetted in some way. We are currently integrating Lovestruck Verified into our mobile web and apps – a world first for any dating site – and are planning to augment social ID verification with an additional check against a member's home address via the Electoral Roll."