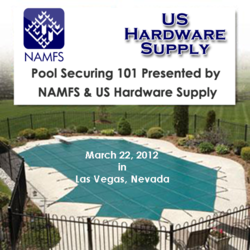 One of our guiding principles is to sponsor educational programs. This generation of pool covers is an improvement in both safety and aesthetics. Join us to become more knowledgeable regarding this cutting edge solution.
~ Eric S. Miller, NAMFS
Stow, Ohio (PRWEB) February 21, 2012
The National Association of Mortgage Field Services (NAMFS), the premier trade association for the mortgage field service industry, announces the presentation of Pool Securing 101 on March 22, 2012, in Las Vegas, Nevada.
As the oldest and largest trade association in the mortgage field services industry, NAMFS is committed to providing educational resources designed to improve the servicing of vacant properties. This industry leading program regarding the securing of pools with safety covers offers attendees the opportunity to learn more about these products. This free session will provide hands on experience related to the measurement and installation of these covers.
Participants will also have the opportunity to become certified in the provision of this service for an additional fee. Transportation will be provided and we ask that participants meet in the lobby of the New York, New York Hotel and Casino no later than 8:30am. To participate in this session, please follow the instructions to register via the Pool Securing 101 event page.
US Hardware Supply, as an Associate member of NAMFS, has partnered with the Association to assist in the presentation of this valuable training session and certification opportunity. Membership to NAMFS is not required to attend these sessions; however, members will be offered a discounted fee for the certification exam.
NAMFS regularly researches products that may provide a beneficial impact to the industry. These covers are a clear improvement over the previously required pool boarding procedure. The boarding of pools is costly and often results in further damage, while these covers not only reduce materials required but provide an aesthetic benefit that can increase the value at resale. The Association is pleased to have the opportunity to raise its independent voice within the industry to share these industry leading products with those that are responsible for their installation as well as those that will ultimately benefit from their use.
Association members will also be given the opportunity to share their thoughts on industry issues during a separate, members-only, OPEN FORUM session later in the day which will be hosted at the New York, New York Hotel and Casino. This event is limited to 100 participants and we ask that each member company register only 1 attendee. To learn more about these events, please visit NAMFS.org.
About NAMFS
The National Association of Mortgage Field Services, Inc. (NAMFS) is the premier trade association for the mortgage field service industry. We are dedicated to working with all entities of the industry from the Government Agencies and investors that set policy to the contractors and inspectors that perform the work.
About US Hardware Supply
US Hardware Supply is a leading wholesaler of door locks, deadbolts and other property preservation supplies for real estate and REO foreclosures. US Hardware Supply is a 100% Veteran Owned Small Business that specializes in providing low cost, high quality products and a dedication to customer service. For more information visit http://www.ushardwaresupply.com.
###