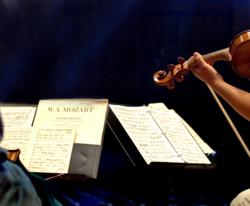 Marlboro Music is a unique summer community for elite musicians.
New York, NY (PRWEB) February 22, 2012
Renowned chamber music festival, Marlboro Music, will begin its 62nd season in July with tickets for its popular concerts on sale from March 1, 2012. Marlboro Music, with Richard Goode and Mitsuko Uchida as Artistic Directors, brings together the world's best young professional musicians and musical masters who collaborate over seven weeks in secluded Vermont. Performances will be held on weekends between July 14 and August 12, 2012.
The Marlboro Music Festival concerts feature a selection of seventy chamber works being explored in depth each week. The chamber music festival programs are announced and posted one week before each weekend's performances.
Tickets go on sale March 1, 2012 and can be ordered online, over the phone (215-569-4690), or by mail. Ticket prices range from $15.00 - $37.50. Since concerts generally sell out, early seat reservations are recommended.
Chamber music festival concerts will be held on July 14th at 8:30pm, July 15th at 2:30pm, July 21st at 8:30 pm, July 22nd at 2:30pm, July 28th at 8:30pm, July 29th at 2:30pm, August 3rd at 8:30pm, August 4th at 8:30pm, August 5th at 2:30pm, August 10th at 8:30pm, August 11th at 8:30pm and August 12th at 2:30pm.
The Friday August 3, 2012 concert is the Annual Town Benefit Concert held at the intimate Marlboro Dining Hall with all proceeds going to local non-profit organizations. All other performances are held in the Person's Auditorium on the campus at Marlboro College, Marlboro Vermont.
About Marlboro Music
Started in 1951 by musical émigrés from Europe, Marlboro Music is a unique summer community for elite musicians. Over seven weeks each summer, seventy-five emerging musicians collaborate with musical masters, exploring music with unlimited rehearsal time in the kind of depth not generally possible. With an emphasis on study and exchange of ideas, the school is recognized as an important musical incubator. Located in Marlboro, Vermont, the school's unique atmosphere and environment has produced three generations of the world's leading musicians. Visit http://www.marlboromusic.org
###