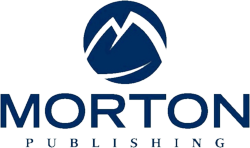 Having a forward thinking management team, like David, Chrissy, and Carter, that works as a cohesive unit to drive growth and development for Morton will prove invaluable.
Denver, Colorado (PRWEB) February 22, 2012
Morton Publishing Company, a college textbook publishing company today announced a new leadership team focused on driving the company's ambitious growth initiatives through market expansion and technology advancements to bring students high-quality textbooks at reasonable prices.
David Ferguson, Acquisitions Editor for Morton Publishing Company, has been named the new President, and Chrissy DeMier and Carter Fenton were also announced as Vice President of Operations and Vice President of Sales and Marketing, respectively. They are charged with navigating the company through the future into the next phase of market entry and expansion.
"Having a forward thinking management team, like David, Chrissy, and Carter, that works as a cohesive unit to drive growth and development for Morton will prove invaluable," said Doug Morton, former President and current Chairman of the Board of Directors for Morton Publishing. "Their proven success records and management capabilities from their fifty-five combined years in the publishing industry demonstrates their ability to successfully move Morton Publishing into new markets.
"I am so proud to be leading this company into the future with such consistent growth potential ahead. We look forward to strengthening our product offerings by growing our product lines in our existing markets and developing products in new markets, and working on viable e-book distribution opportunities to offer our best-selling content across all platforms for a comprehensive learning experience," said Ferguson.
For the past six years, these three have worked together as a team to drive growth, evaluate market expansion initiatives, and develop operation strategies to ensure success. This new management structure is committed to developing new markets and utilizing new technology to offer students the best products available.
About the New Management Team
David has been in college publishing for fourteen years all with Morton Publishing. After graduating from the College of William and Mary, he began as a sales representative and quickly moved to acquisitions editor. David is committed to ongoing collaboration throughout the new management team and the company as a whole to continue to produce high-quality products. He is focused on building a company that makes employees and customers proud.
Chrissy also graduated from the College of William and Mary and began working for Morton Publishing in 1990. Over the past twenty-two years, she has worked in all aspects of the business. Her superior knowledge of where the industry has been and how it is evolving offers valuable contributions to the management team. As the Vice President of Operations, she is committed to ensuring that Morton Publishing makes progressive strides to achieve growth and stability.
Carter has been in college publishing for nineteen years working for West Publishing, Addison-Wesley (division of Pearson Education), and Morton Publishing. He has held positions as a sales representative, marketing manager, acquisitions editor, and sales manager. He joined Morton Publishing in 2006, and is focused on building strong sales and marketing programs with an exceptionally hard-working, smart, and ethical sales and marketing team.
About Morton Publishing Company
Morton Publishing Company is a small, privately owned college textbook company based in Englewood, CO. Since 1977, Morton Publishing has been dedicated to publishing high-quality textbooks and laboratory materials while keeping costs down so that books are affordable for students. Morton believes that high prices should never dissuade students from investing in their education. For more information about Morton Publishing, visit Morton-Pub.com or call 800-348-3777.
###