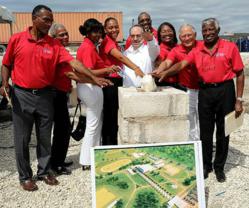 I am convinced that this effort will benefit young Haitian athletes, who are striving in the face of adversity. They are athletes who are working with great effort and dedication to make their dreams reality
(PRWEB) February 21, 2012
A few days before IOC President Jacques Rogge visits the Olympic Youth Development Centre in Lusaka (Zambia), accompanied by the United Nations Secretary-General, Ban Ki-moon, a second project symbolically kicked off in Haiti. Indeed, on 14 February 2012, in the Haitian capital, Port-au-Prince, the first stone of this centre was laid. Numerous personalities from Haiti's diplomatic, political and sporting circles attended this ceremony, including the Minister of Youth, Sport and Civic Action, Jean Roosevelt René, and NOC President Jean-Edouard Baker. The IOC was represented by Mario Vázquez Raña, EB member, President of the Association of National Olympic Committees (ANOC) and Chairman of the IOC Olympic Solidarity Commission.
Giving back hope
Straight after the terrible earthquake which hit the country just over two years ago, the Olympic Movement committed itself to providing aid to rebuild Haiti's sporting infrastructure as part of the nation's reconstruction process. It has honoured its commitment, as this project for a centre, which combines sport, education and health, will contribute to the rebuilding of local communities, promote social values and give Haiti's citizens a glimpse of a better future after the earthquake of 12 January 2010. As underlined by President Rogge: "With the Sport for Hope Olympic centres, athletes, young people and members of disadvantaged communities in developing countries will have the same opportunities as their peers in developed countries to practise sport and learn about the Olympic values."
A joint project
The Haitian Olympic Committee and government and the IOC have thus joined forces with a view to building this centre on a four-hectare plot of land. The official opening is scheduled for 2014. The centre will include open-air facilities – an athletics track, football fields and basketball, volleyball, tennis and handball courts – as well as indoor amenities – a gymnasium and an administration and training building.
During the ceremony, Mario Vázquez Raña said how proud he was to participate in this concrete action, which would lead to the rebuilding of some of the sports infrastructure which had been destroyed, adding: "I am convinced that this effort will benefit young Haitian athletes, who are striving in the face of adversity. They are athletes who are working with great effort and dedication to make their dreams reality." He went on to thank the Haitian NOC for its extraordinary and decisive support in bringing this important task to fruition. For his part, NOC President Jean-Edouard Baker wanted to thank the Haitian government and the IOC for their support in the realisation of this project. And Minister Jean Roosevelt René stated: "This centre is part of our sports infrastructure and we will reconstruct and build many sports fields throughout the country. Haitian sport will be greatly improved, while we also hope to transform this coastal area of Port-au-Prince into a dynamic business and leisure zone."
Learn more about development through sport
For more information, please contact the IOC Media Relations Team.
###