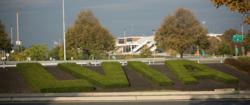 "We would like to thank our passengers for their continued support of LVIA and encourage travelers to think of this airport first when making travel plans."
Charles R. Everett, Jr.
Executive Director
Allentown, PA (PRWEB) February 23, 2012
In December, 71,521 passengers traveled to and from Lehigh Valley International Airport(LVIA) during the month. Passenger traffic at LVIA increased 3.51 percent in December, 2011 compared to the same time period last year. Year-to-date, 873,353 total passengers used the airport, up 4.19 percent compared to 2010 (an increase of 35,142 passengers).
The traffic leader in December was US Airways, with 19,301 passengers traveling to and from LVIA. Rounding out the other top airlines were United Airlines (14,819), AirTran Airways *(13,103), Delta Air Lines (12,523), and Allegiant Air (9,423).
"December proved to be a positive month for passenger traffic for LVIA, finishing 2011 up over 4 percent from 2010." stated Charles R. Everett, Jr., Executive Director. He went on to say, "We would like to thank our passengers for their continued support of LVIA and encourage travelers to think of this airport first when making travel plans."
Lehigh Valley International Airport is conveniently located near Allentown, Bethlehem and Easton, Pennsylvania and is served by Air Canada, AirTran Airways*, Allegiant Air, Continental, Delta, Direct Air, United and US Airways with 13 nonstop destinations with connections to the world. LVIA serves a twelve county area with a population base of 3.6 million people. The Airport is easily accessible from communities in eastern Pennsylvania and northern New Jersey areas. For more information on LVIA, visit http://www.flylvia.com.
*AirTran Airways is a wholly owned subsidiary of Southwest Airlines.
###