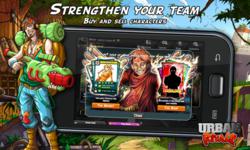 The game's fun and addictive nature kept me playing for hours and hours ! Tcgplayer.com
Paris, France (PRWEB) February 23, 2012
Boostr launched the first mobile (J2ME) version of Urban Rivals in 2004, the web version in 2006, the iOS version in December 2009, and the facebook version in 2010.
The new android version offers both solo and multiplayer modes, as well as a new user interface to manage the collection.Users are able to choose from more than 700 characters to build their card decks. By fighting their opponents, users can level up their cards and unlock new statistics and graphics. The android version supports 13 different languages and is compatible with devices supporting android version 2.2 and higher.
Boostr strategy has long been to provide a similar gaming experience on all devices to players all over the world.
###