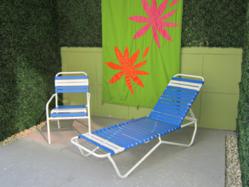 Lexington, VA (PRWEB) February 21, 2012
Though it's less than three months in, the 2012 housing market is starting to pick up. There are reports that 2012 could be the year we have all been waiting for – the year residential and commercial property sales start to rise again. According to the most recent American Institute of Architects Home Design Trends Survey, there has been an rise in the number of homeowners investing in outdoor living spaces in their homes. 60% of respondents feel a beautiful outdoor space is an important addition to their home. ParknPool, an internet based distributor of commercial grade furniture, including pool furniture, is committed to educating all clients (residential and commercial) on the importance of an outdoor living area.
Pool furniture is not only a necessity; it is an investment in any property. ParknPool realizes this, so they offer a large selection of furniture to suit every client's needs. With a variety of coatings and colors to suit every type of outdoor décor, ParknPool has helped countless clients, no matter what the type of outdoor area.
Recently, a real estate agent in Georgia confronted a couple having trouble selling their home. Many buyers were interested in the house, but were opting for other properties. The agent felt one of the main reasons for this was that the pool area could be more attractive. If the potential buyers could see the space fully utilized, they would be able to visualize lounging on the patio and having fun. As a result, they would be more inclined to make an offer. The couple heeded her advice and spruced up their deck. Within three months, their home was sold.
ParknPool offers a large selection of pool furniture, in a variety of different materials. Plastic coating protects sunbathers and energetic children alike from injuries. An added bonus of this product is its ability to stay cool even after hours under the blazing sun. Vinyl strap furniture has a stellar reputation, and for good reason. With aluminum frames and vibrant colors, it is comfortable, attractive, lightweight, stackable and durable. ParknPool's resin pool furniture looks stylish, affords comfort and, additionally, is able to withstand all of the elements. Resin furniture also stacks easily, making storage at the end of the summer a breeze. Whatever the material, ParknPool's pool furniture is durable and made to last.
ParknPool also offers outdoor cushions and umbrellas, so buyers can be confident that they will not only have safe, durable furniture, but it will also be comfortable and stylish. Whether selling a private residence or a 300 room hotel, ParknPool is dedicated to guaranteeing pool owners will get the most from their pool areas.
About ParknPool:
ParknPool is a Veteran Owned SBE/WBE Company and is the leading online supplier of commercial grade furniture and site amenities such as picnic tables, trash receptacles, park benches, bleachers and restaurant furniture. ParknPool was begun in 1998 in Orlando, FL and moved their headquarters to Lexington, VA in 2005.
###