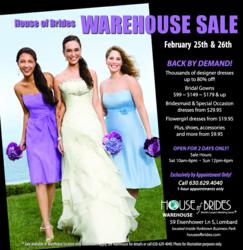 President Eva Buziecki says, "The Warehouse is stocked with beautiful designer dresses at unbelievable prices."
Lombard, Illinois (PRWEB) February 21, 2012
The bridal retailer first opened its Warehouse last month for a 3-day event on January 26th, 27th and 28th. Due to the overwhelming customer response, the retailer is reopening the location for a 2-day sale February 25th and 26th.
The Warehouse is located at 59 Eisenhower Lane South in Lombard, Illinois, inside the Yorktown Business Park. The location is only open for the 2-day sale, which is exclusively by appointment.
This latest location features thousands and thousands of wedding and special event dresses up to 80% off original retail prices. Wedding dresses are priced $99, $149, $179 and up. Most bridesmaid dresses and special occasion dresses are $29.95. Most flowergirl dresses are $19.95.
Bridal headpieces, jewelry, shoes and accessories start at $9.95 and up.
The selection is enormous with a wide array of styles, sizes and colors. Everything is available off-the-rack for immediate purchase and payable by cash, debit or credit card.
President Eva Buziecki says, "The Warehouse is stocked with beautiful designer dresses at unbelievable prices."
The Warehouse is open February 25th and 26th only. The sale is available only at this location and is not offered at House of Brides' other salons.
Sale hours are Saturday 10am – 6pm and Sunday 12pm – 6pm. The sale is exclusively by appointment only. Walk-in customers will not be accepted. Appointments are 1-hour. Customers are directed to call 630-629-4040 to schedule an appointment.
For appointment and location information, view the Warehouse Sale ad on http://www.houseofbrides.com/t-storesales.aspx,
About House of Brides:
House of Brides established its first brick-and-mortar store in 1929 and has since grown to 10 Chicagoland stores and global E-Commerce website, http://www.houseofbrides.com. Millions of Brides and their wedding parties visit the salons and global website for over 30,000 wedding and special event products.
###