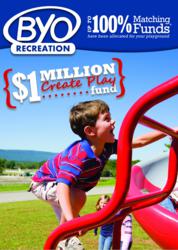 BYO is committed to helping create more play.
Saint Augustine, Fla. (PRWEB) February 21, 2012
Communities nationwide will now have the opportunity to "Create Play" for children thanks to BYO Recreation's new program, the $1 Million Create Play Fund. Beginning on Feb. 21, BYO Recreation will match up to 100 percent of customer funds for select playground structures. The $1 million fund should help create at least 100 new playgrounds and thousands of happy children.
Playgrounds positively impact the lives of children all over the world. With decreasing budgets, many customers, including local parks and schools, struggle to provide playgrounds for their communities. BYO Recreation's goal is to eliminate this struggle, fostering the creation of more play for children, families and communities across the nation. This is the core of the program and the reason why BYO Recreation is giving away $1 million in matching funds.
"Through the $1 Million Create Play Fund, our mission is to give every school, church or daycare nationwide the opportunity to afford a playground," said Bill Calhoun, president and founder. "Play is an important part of a child's development, and BYO is committed to helping create more play."
Playgrounds provide numerous benefits for children, both mentally and physically. They encourage children to challenge themselves every day, making playgrounds a great educational resource for parents and teachers. The $1 Million Create Play Fund gives BYO Recreation's customers the chance to create play opportunities for children by purchasing high-quality, safe playground equipment at an extremely reduced cost.
For more information, visit http://www.byoplayground.com/createplay or call 1-800-853-5316 to register for your matching grant.
About BYO Recreation
Headquartered in St. Augustine, FL, BYO Recreation is one of the most comprehensive and fastest growing recreational equipment suppliers in the world. Since 1999, the company has helped thousands of schools, churches and communities create recreational spaces that are truly Beyond Your Ordinary. For additional information about BYO Recreation, visit http://www.byoplayground.com.
###