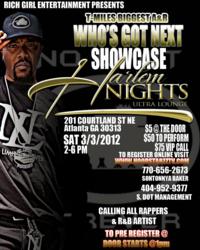 Who's Got Next
Atlanta, GA (PRWEB) February 21, 2012
Trails were blazed last year at the "Who's Got Next" talent showcase held in Atlanta's own Fuzion Lounge. Terry Miles, Head A&R of No Limit Records, headlined the event ultimately leading to a record turnout of over 90 artists all vying for the chance to impress one of the most sought after Label representatives in the music industry.
"Last year's turnout was incredible. With the ongoing search for raw talent, this event provides artists a direct way to gain publicity and showcase their talents," said Schlonda of S Dot Management Group. "Stay tuned" added Melissa, "We are bringing the showcase back and it's going to be better than ever."
Since last year's showcase, the Fuzion Lounge has been a hot spot for similar showcases and performances, with many event planners hoping for a similar turn out.
"We held the event at Fuzion twice, now it's time to switch it up." Says T-Miles, A&R and headliner for the showcase. "This time we are going to be at the Harlem Nights Ultra Lounge."
The 3rd "Who's Got Next" Talent Showcase will feature Head A&R, T-Miles of No Limit Records, and will take place from 2-8pm on Saturday, March 3, 2012 at the Harlem Nights Ultra Lounge in Atlanta, GA. "Who's Got Next" welcomes all rappers and R&B singers to register at Hoodstarzztv.com.
"This is the opportunity of a lifetime. I registered as soon as I heard that they would be holding another showcase. I can only imagine what artists have put together for the panel this year." says Prince Guddah and Picaso ,an artist in Atlanta, GA. "I'm just excited to see the show" Adds Denise Stokes a friend of Schlonda and TMiles, "I'm looking forward to it."
For more information on the "Who's Got Next" Talent Showcase, Email hoodstarzztv(at)gmail(dot)com or call 1.888.755.0787
# # #