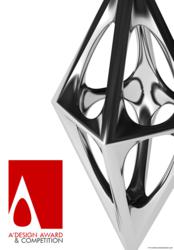 Participating in the A' Design Award demonstrates the will to innovate.
Como / Italy (PRWEB) February 22, 2012
Today, A' Design Award and Competitions announced its final call for nominations to join the annual & international A' Design Awards. With only a few days left to join, A' Design Award and Competitions is expecting especially the best designs and projects from worldwide creative talents in design, architecture and arts to award them with the prestigious A' Design Award.
Online applications for the A' Design Award 2011-2012 will be accepted through February 29, 2012 (12 p.m. GMT). Each application will be closely reviewed and scored by a distinguished panel of judges, including representatives from prominent entities in design, arts and architecture. Winners will be announced on April 1, 2012 at A' Design Award website. Submissions can also be made online at adesignaward.com and the competition is open to submissions from artists, designers, architects and entrepreneurs worldwide.
Organized in 40 distinct categories in design, architecture and arts, the A' Design Award has become a symbol of prestige, delivering fame and publicity to its winners. Design enthusiasts can check previous winners of the A' Design Award from awardwinningdesign.org, where they could also access high-resolution images and design descriptions, likewise interviews with the winning designers can be accessed from design-interviews.com.
A' Design Award and Competition is organized to highlight, advocate and advertise good designs and aims to funnel the attention of the press to award winning designers who have demonstrated their creative talents by innovative, smart and insightful projects in 40 design categories.
Each category has its own evaluation criteria however submissions will be judged primarily on three key points covering intrinsic design quality, engineering content and presentation of concepts. After voting, scores given by the jury members are normalized and weighted to eliminate personal biases, and to make sure that votes of the professionals will be more effective in their respective fields.
The previous edition of the A' Design Award was celebrated in 2011 during the A' Design Award Gala-Night at Villa Gallia, by the Como Lake with the participation of 200 guests consisting of winners, industry leads and press members. Awarded designers were provided with winners' packages consisting of the A' Design Award trophy, the certificate, the yearbook, the award logo and winners services such as PR and communications campaigns. A' Design Award winners were furthermore showcased for 21 days in the A' Design Award exhibition in Como / Italy.
Nominations are open to all companies, professionals and students, and the A' Design Award application fee is 375 Euros. There are no further fees for winners and discounted nomination packages are available for companies who would like to make multiple submissions. Moreover, highly talented students and young designers could apply to programs such as Design Ambassador Program or Award Scholarship to waive nomination fees.
Prospective participants are invited to nominate their works online using A' Design Award website before the competition deadline to be eligible for the 2011-2012 awards.
About A' Design Award: The A' Design Award and Competition is for designers, innovators and companies who wish to highlight themselves through their award winning designs to attract the attention of media, publishers and buyers. Further information about the A' Design Award and the list of award categories can be obtained from whatisadesignaward.com.
###