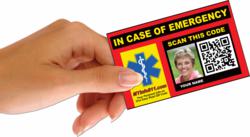 Palm Coast, Fl. (PRWEB) February 28, 2012
MyInfo911, one of the leading innovators of state of the art medical ID cards and related products, constantly strives to bring its customers new features to assist them in the event of medical emergencies.
According to the National Hospital Ambulatory Care Survey, there were over 123.8 million visits to the emergency room in 2009, with some 42.4 million attributed to injuries alone. MyInfo911 also learned that over 106,000 people die each year in the US from the negative effects of medications, according to the Journal of the American Medical Association (JAMA), with some 225,000 deaths attributed to medical errors of all kinds.
These staggering statistics concerned MyInfo911, especially in light of the fact that the very nature of emergency care almost always means first responders must provide treatment to victims without any way to access their medical history and no time to wait for such information.
MyInfo911 developed its innovative line of emergency ID products with this challenge in mind. The subscriber receives a special medical ID card to carry in wallet or purse, containing the person's name, photo, year of birth, important medical conditions, and contact information on next of kin or other emergency designate. MyInfo911 also provides weather resistant stickers to affix to a prominent spot on auto, boat, motorcycle, bicycle, backpack, helmet, etc., as well as ID key tags to place on a key chain. All these products feature the Quick Response (QR) Code, that when scanned by first responders using an ordinary smart phone, provides virtually instant access to the victim's medical history, including blood type, medications, allergies, and conditions such as seizures, diabetes, heart disease, etc.
Next of kin are automatically notified when the QR Code on the MyInfo911 emergency ID product is scanned, alerting them to a possible medical emergency involving their loved one. MyInfo911 has recently added a new feature which allows emergency personnel to input the precise location of the incident or of the facility where the victim will be taken. In addition, a map link is provided to provide directions to that location.
About MyInfo911
Started in October 2010, MyInfo911 provides emergency identification cards that use QR codes to provide pertinent medical history information to first responders and other medical providers. The Palm Coast, Florida based company's cards have the person's picture, name and QR code on the front and the person's name, year of birth, emergency contact, blood type, allergies and specific medical conditions on the back. For more information visit https://www.myinfo911.com
###