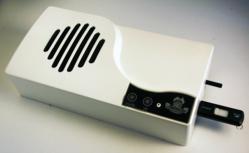 SET THE TONE.. With the Only
Truly Digital MP3 Doorbell
Sparta, NJ (PRWEB) February 21, 2012
After a successful product release and virtual sellout of Tommyknocker Doorbells, new product is now ready to ship. The Tommyknocker is attracting attention in the home improvement market because it's a sensible alternative to upgrade from an analog style chime to all digital MP3 doorbell.
The history of the innocuous doorbell may seem unimportant, but to those who invented them and started companies that sold millions of them, they are a very serious matter indeed. Electric door chimes were the end result of what started as ornate door knockers. The irritating "buzzer" of the early 1900's was replaced by the "musical chime" doorbell, and today digital technology prevails. Here is a case for what may be that last transition in doorbell technology: the digital doorbell.
The Tommyknocker Digital Doorbell is a totally digital doorbell that plays MP3 files. It does not need a microphone or RCA jacks to "record" a sound bite but my up load MP3 files via a USB or serial bus found on all computers. The unit is programmable with a button style interface on the front of the machine and is shipped with a loaded USB stick. The Tommyknocker website offers users a number of MP3 audio files ready for playback, but the user is most encouraged to up load their favorite MP3 files of choice.
http://www.tommyknockerdoorbell.net
###