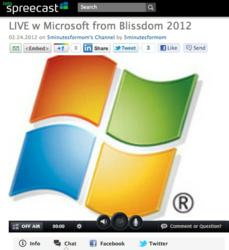 Microsoft and Windows love the mom blogging community and, this way, find out what moms really want from their computers
Blaine, Washington State (PRWEB) February 23, 2012
5 Minutes For Mom, a leading blog for moms, will be hosting a live Spreecast with Microsoft and Windows at BlissDom '12.
BlissDom is a premier conference for women in online publishing that brings together 750 attendees and speakers including top blogging, public relations and social media professionals. BlissDom '12 held February 23 - 25 in Nashville, TN is the seventh BlissDom conference (including two BlissDom Canada events held in Toronto).
Janice Croze, co-founder of 5MinutesForMom.com will be hosting this interactive video show through the new Spreecast platform live on location in the Microsoft Suite at BlissDom'12. Janice and various panelists will answer live questions about products and services related to the Windows brand and how Windows products can help meet the needs of bloggers and parents.
The show will use the new social video platform called Spreecast which allows up to four people at separate locations to be on camera together while thousands of others can watch, chat, tweet, comment and participate by submitting questions to those on screen.
During the broadcast, 5 Minutes for Mom will be giving away a copy of Microsoft Office Home and Business, a World-Class HD Optics web cam, an Arc Touch Mouse, and an Aspire S Ultrabook™ Windows PC.
As Ms Croze explains, "Microsoft and Windows love the mom blogging community so we've partnered with them to put them directly in touch with their audience and find out what moms really want from their computers and devices. And, in exchange, moms win prizes. What great fun!"
Giveaways will be open to both US and Canadian residents and the prize winners will be selected randomly from the Spreecast attendees section. Although there's no need to be at the conference, BlissDom'12 attendees are invited to join Janice and others in the Microsoft booth during the live webcast.
###