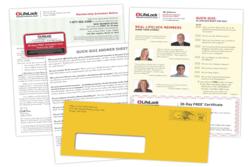 SeQuel's customer service, speed and testing strategy is what set them apart for us
Eden Prairie, MN (PRWEB) February 22, 2012
LifeLock Inc., a leading protector against identity theft, has announced that it has selected SeQuel Response, the rising Minnesota based direct marketing firm, as its agency of record for direct mail.
Selection for this crucial role means that SeQuel Response is being counted on to drive an all-encompassing national direct marketing (DM) mail campaign that will help to elevate the opportunities for consumers to protect their personal information with LifeLock.
"LifeLock has made a strategic decision to be a larger player in the DM arena, and SeQuel Response provided the most comprehensive level of service from start to finish," said Steve McGrady, LifeLock's senior vice president for strategic partnerships. "SeQuel Response was an attractive choice because of their attentiveness and timeliness in their responses to their clients."
LifeLock's new national campaign builds off a relationship with SeQuel Response that includes more than three years worth of exhaustive testing, model building and program refinements that demonstrated that these two companies would find even greater success in a more comprehensive partnership.
"SeQuel's customer service, speed and testing strategy is what set them apart for us." McGrady added that LifeLock has "experienced positive results that provided increased efficiencies for the organization."
SeQuel Response President Tom Rothstein, said that his company is "excited to partner with LifeLock to help deliver their message that people need to protect their identities."
Rothstein added that LifeLock will continue to benefit from SeQuel Response's ability to provide "creative development, testing strategies, database marketing and complex analytics" all under one roof.
"We build each campaign. We analyze it. We apply the learning's and LifeLock collaborates to whatever degree they choose to," Rothstein added. "It's been a very good working relationship and we're grateful for this opportunity."
About SeQuel Response
SeQuel Response, LLC is a full-service, performance-based direct marketing firm that effectively combines creative intelligence and efficient execution to help clients achieve their next level of performance and profitability. SeQuel relies on informed strategies, sophisticated database marketing and a data-driven testing methodology for its clients' needs. For more information, call Jay Carroll, Partner & Chief Marketing Officer, at 612-963-9534 or email jay.carroll(at)sequelresponse(dot)com. Visit SeQuel's website at http://www.sequelresponse.com. http://www.linkedin.com/company/sequel-response https://twitter.com/#!/sequelresponse
About LifeLock
LifeLock, Inc. is an industry leader in identity theft protection. Since 2005, LifeLock has been relentlessly protecting identities by providing consumers with the tools and confidence they need to help protect themselves from identity theft and manage their credit. The company has a strong focus on educating consumers and working with law enforcement and elected officials to better understand the increasing threats of identity theft. A multiple award-winning organization for two consecutive years, LifeLock has been recognized by Inc. magazine on their annual list of top 500 fastest growing privately held businesses in the United States and by the American Business Awards as having the 2011 Customer Service Team of the Year. In August 2011, Javelin Strategy & Research named LifeLock Command Center and LifeLock Credit Score Manager as "Best in Prevention" in their annual Identity Protection Vendor Report.
Contact: Robb Leer 612.701.0608 or
LifeLock Contact: Courtney Lanik
Media Relations Manager 480.457.2032
Courtney.Lanik(at)lifelock(dot)com
###
.