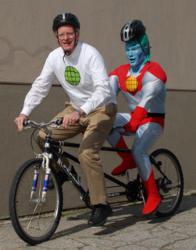 The Planeteer Movement is a red-hot global grassroots social media effort designed to reinstate the values of Captain Planet and inspire positive action towards the many environmental issues facing the world today," said Pyle.
(PRWEB) February 22, 2012
Captain Planet, the world's first eco-superhero and star of the award-winning 1990s television series, "Captain Planet and the Planeteers," celebrated the imminent social media milestone of 500,000 fans on Facebook this weekend. Hundreds of thousands of Captain Planet fans worldwide have joined forces in the new "Planeteer Movement" to put the show's positive environmental philosophy into daily action.
The Planeteer Movement, launched in September of 2010 by a group of fans under the leadership of series co-creator and Executive Producer Barbara Pyle, involves the strategic use of various social media channels to reinstate Captain Planet's values of sustainability and inspire a global awareness of environmental issues. Along with its popular Facebook page (http://www.facebook.com/CaptainPlanet), the Movement also maintains a robust website (http://www.CaptainPlanet.me) and recently launched a Twitter account (@PlaneteerAlert).
The social media strategies of the Planeteer Movement put a 21st century grassroots spin on Captain Planet fandom. Today more than 50 Planeteer Networks have been established around the world, from Australia to Bangladesh, Ghana to Ireland, and all across the United States, populated by young professionals working together to find solutions to issues such as clean air and water, animal welfare, and social justice, among others. The Networks use Facebook Groups and other web-based tools as a means to communicate and share eco-friendly tips as well as coordinate meetings, cleanups, and other events to raise awareness in their communities.
To celebrate the fast-approaching 500,000 milestone, Pyle hosted a planet-wide Twitter party as well as simultaneous Planeteer Meetups in Los Angeles, New York City and even Accra, Ghana. During the event, Pyle urged the Planeteers to get their friends, family members and peers involved and to increase their social media activities for positive change.
"Twenty-plus years ago, Ted Turner and I created Captain Planet and the Planeteers to educate and motivate this next generation of global citizens," said Pyle. "I'm happy to say that Cap has accomplished his mission, as evidenced by the now adult Planeteers who are carrying Captain Planet's philosophy forward both personally and professionally. Understanding this Millenial generation has given me great hope for the future of the planet, and I am both inspired and humbled by them."
Pyle added: "It's fantastic to have a central gathering space for Captain Planet fans on Facebook — but now we're also harnessing the immediacy and call-to-action power of Twitter with @PlaneteerAlert. We encourage all fans to join us on Twitter, be part of the conversation, and take part in tweet-ups and clean-ups in your part of the world. The Power Is Yours!"
Founding Planeteer Movement team member and media manager Kyle King, who moderated the Twitter party, added, "It's astonishing to see a continued collective appreciation for the icon that shaped so many of my generation's childhoods. The Twitter feed was exploding with messages of support and enthusiasm for both a return of Captain Planet and a growth of the Planeteer Movement."
Joining Pyle at the event were original cast members Kath Soucie (Linka) and Ed Begley, Jr. (Preston/Zoning Commissioner) as well as actor-environmentalist Efren Ramirez (Pedro of "Napoleon Dynamite"). Also in attendance were board members and volunteers from a variety of non-profits including the Environmental Media Association, the Ian Somerhalder Foundation, and the Captain Planet Foundation. But the real stars of the event were the fans themselves as Planeteers from around the world met for the first time in person or online. From Atlanta, Georgia to Accra, Ghana, this grassroots movement is rapidly advancing environmental stewardship globally.
"As a longtime environmentalist, I'm proud to have been a part of this show, which raised the consciousness of so many young people, and which continues to have this galvanizing effect on people all over the globe," said Ed Begley, Jr.
Kath Soucie commented, "Being on the show certainly taught me a lot about taking care of the planet, and I'm excited to be here today to see how far-reaching the show's influence really was."
Added Efren Ramirez, "Growing up and watching the show, I heard the message; we are responsible for taking care of this planet. In light of things, we can make a difference. Go Planet!"
Captain Planet and the Planeteers, which premiered in 1990 to critical acclaim and aired for six seasons, inspired a generation of eco-literate youth across the globe. It created a brand that went beyond the television set to include toys, games, comic books, and more. Pyle demanded sustainable manufacturing from the companies that wished to feature the brand, revolutionizing many major production facilities. In addition, Pyle used a percentage of the licensing fees to establish the Captain Planet Foundation in 1991. Many of the products are collector's items today as no new Captain Planet merchandise has been marketed since 1995.
At the party, Pyle announced that the 500,000th individual to become a fan of Captain Planet on Facebook will win a treasure trove of collectible Captain Planet prizes from her own private stash. The achievement is just the beginning, said Pyle, "My message today is to keep up the good work and shoot for the stars until we reach one million, five million, 10 million Planeteer fans dedicated to saving our planet."
All Photos by Jim DeNuccio
###