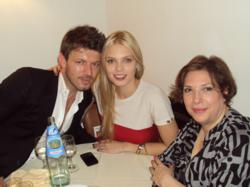 An unlikely meeting between artist and model.
S Chesterfield, VA (PRWEB) February 23, 2012
How does unknown Virginia-based fine artist Sandhi Schimmel Gold of Schimmel Art end up having dinner with super model Masha Philippova and her actor boyfriend Adis Gutic at trendy New York restaurant Cipriani?
It could it be Kismet, but the credit goes to the internet.
In 2010, artist Sandhi Schimmel Gold was flipping through a catalog. She came across a photo of a beautiful young lady and ripped it out. Popular culture, fashion & beauty are her artistic references. It might not be an accepted or respected resource material, but it is her artistic vision to recreate one image of beauty from another. As her artist's statement explains on her web site, Schimmel Art:
"My work reflects our society's obsession with beauty through advertising - and the endless images that bombard us daily. It is a purposeful intermix of images derived from advertising and thousands of incongruent pieces - images and text - from advertising that arrives through my mailbox. Assembled like a mosaic; the junk mail paper tiles create an entirely new image - an eclectic and tactile portrait reworked in my imagination, utilizing materials that would otherwise go to waste."
Sandhi Schimmel Gold is an eco-friendly fine artist. Her work is non-toxic; she upcycles junk mail [and other paper that would end up in a land fill] to create mosaic portraits - hand cutting and gluing each tiny piece into place.
Sandhi Schimmel Gold used that photo as a resource. She often don't know who her model is, unless it is a celebrity... As she created this particular piece, this beautiful young woman reminded her of the serene beauty, sexual confidence of a young Catherine Deneuve in the film "Belle de Jour." The colors reflect a 1960's pop scheme, reminiscent of the time of the film...and the title "Faire" is one word from a phrase the artist translated from French - "Do I remind you of someone else?"
The artist posts images of her work on Facebook, Twitter [@schimmelgoldart], Tumblr, and her blog. She never knows where text and image go from there.
Екатеринбу́рг [Yekaterinburg] is a city located in the Ural mountains in Russia. An artist there saw a blog which featured Sandhi's work. She followed the link to Sandhi's web site and realized the subject of one of her pieces, "Faire" looked a lot her friend [and model], Masha. She sent the link to Masha's mother, Helen Phillips. Helen sent Masha a link to the blog - who followed it to Sandhi's web site. She and her boyfriend, Adis Gutic were certain the portrait "Faire" was indeed Masha Philippova!
They were impressed with Sandhi's work and wanted to meet Sandhi, but she lives in Virginia. However, Sandhi told them she and her husband were headed to NY in just a couple of weeks.
Adis, who is an actor and host at Cipriani in New York City, reserved a table for the four to meet where they discussed the amazing circumstances that brought them together. An anonymous blogger inadvertently created a meeting between the model muse and the artist.
Sandhi created a one-of-a-kind reproduction for Masha and Adis, and signed the reproduction of "Faire" on the bar at Cipriani. They went their separate ways that night, but began a friendship. And that's how an unknown artist had dinner with a super model!
The original piece, "Faire." was purchased by a collector in Denver, CO. from Translations Gallery, one of the galleries that carries Sandhi's work.
Sandhi Schimmel Gold's entire collection, resume and list of galleries and events can be viewed at Schimmel Art.
###