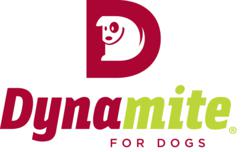 We have always prided ourselves on using ecologically sensitive ingredients in our natural dog food, natural horse feed and other products.
(PRWEB) February 22, 2012
As Dynamite Specialty Products completes its yearlong switch to environmentally friendly packaging with a new, contemporary logo, the extensive project is helping the company spread the word about its commitment to nature in nutrition for animals and humans.
Dynamite, which has been making all-natural food, vitamins and nutritional supplements for four generations, decided more than 26 months ago that it was time to revamp the logo and packaging to reinforce its commitment to natural ingredients.
It started working with Foerstel Design in Boise to develop a new look and tag line that would stress its commitment to natural ingredients in products for horses, dogs, humans and virtually all living creatures.
The tag line became "Innovation Guided By Nature, Backed By Science." Several other tag lines were considered, including "Honest to Goodness Quality," "Naturally Powerful. Scientifically Proven," "Solid Science, Naturally Better." The final version was selected because it succinctly communicates Dynamite's foundation of doing things naturally while relying on scientifically proven results.
The graphic revisions were a major decision for Dynamite. The logo had been updated one time since its inception in 1982, but it was time for a fresh look.
To create a complete synergistic package with the selected tagline, Dynamite's goal was to develop a strong graphic image that would also convey its natural approach. The logo uses a strong typeface, Solex black italic, in an earthy color palette.
The graphic "D" of the corporate logo contains a highly stylized leaf that is meant to reinforce Dynamite's organic and natural emphasis in its products and as a company.
The label was purposely designed to have a nostalgic feel to represent Dynamite's longevity in the animal and human supplementation world.
Dynamite also wanted to give a better indication of the products' uses and strengths on the front of the packaging. The logo system was further developed to include interchangeable graphics for different product lines.
For instance, Dynamite's equine products have a logo that uses a horse icon in the "D" rather than the stylized leaf. This system can be seen in all the lines, including canine, feline, plant foods, wound care, exotics, avian and machinery. Custom colors also help define each product line within the Dynamite lineup.
"The next step in the process was finding an alternative to plastic containers. When we looked at a warehouse full of plastic containers, we knew we had to do something differently," said Debbie Johnson, marketing director at Dynamite Specialty Products.
"Our desire to be good stewards of the earth was even more important than our desire to have a new look," said Callie Novak, Dynamite CEO. "It took us nine months to complete the process of replacing plastic containers with multi-walled kraft bags made of recyclable paper and sewn at the top. The bags have an earth-friendly moisture and grease barrier that is safe for animals and will break down in the recycling process."
"We selected our paper bag manufacturer through its affiliation with the Sustainable Packaging Coalition. The biodegradable moisture and grease barrier is a patented product. The manufacturer also uses only Sustainable Forestry Initiative® certified paper. The components of the packaging line up with Dynamite's goals," Johnson added.
While the switch has been costly in dollars plus taking untold hours of company time, Dynamite expects to recover the costs within two years. "We cut the overall weight of our packaging by at least 300 percent and developed more space-efficient packaging as well, resulting in reduced shipping costs and reduced use of fossil fuels," Novak said.
"For example, we previously used five-pound plastic buckets that weighed 10.4 ounces. Our new five-pound bag weighs only 1.6 ounces. The 25-pound bucket weighed 1.95 pounds, and the new bag weighs only 3.2 oz.
"The most important consideration," she continued, "is the fact that we always have prided ourselves on using ecologically sensitive ingredients in our natural dog food, natural horse feed and other products. Making our manufacturing processes 'greener' is an extension of our commitment to the best possible nutrition.
"We've also thought 'inside the box' by instituting energy-saving practices such as energy-efficient lighting in our warehouse, automatic light switches in our office, paperless invoices and 100 percent recycled paper whenever paper is necessary."
A family-owned business that has specialized in animal nutrition for four generations, Dynamite Marketing makes products for virtually every member of the animal kingdom. It has long developed food and nutritional supplements for prize-winning racehorses and working dogs across the country. Its specialists can recommend exactly what vitamins, minerals and other supplements best support dogs with arthritis, horses with laminitis, cats whose owners make their own food and cows with digestive issues.
Dynamite has worked with veterinarians and university researchers to produce specialty foods to correct nutritional deficiencies in animals ranging from Canadian muskoxen to peregrine falcons to zoo exotics.
Dynamite uses only natural ingredients, made in the United States for better quality control. Throughout its history, it has always looked at alternatives to animal by-products, antibiotics, chemical preservatives, fumigants, artificial coloring and other additives that have later caused health problems. Its manufacturing processes are so stringently controlled that Dynamite has a separate mill to produce feed for herbivores, such as horses and poultry that are especially sensitive to contamination from meat needed by other species such as dogs and cats. Products include natural horse feed, natural dog food, horse and dog nutritional supplements, and a low-grain dog food.
Dynamite has mills in Idaho and Iowa. Additional information is available at DynamiteSpecialty.com or by calling 1-800-697-7434.
###