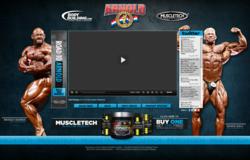 Boise, ID (PRWEB) February 22, 2012
When the curtains rise at the Veterans Memorial Auditorium, Bodybuilding.com (the most-visited bodybuilding and fitness site and largest online retailer of nutritional supplements) will once again bring viewers from around the world exclusive, live coverage of all the action as Arnold Schwarzenegger returns to Columbus, Ohio for the 24th installment of the Arnold Sports Festival. As always – it's free to tune in!
Viewers won't miss a single moment as the world's top bodybuilders, fitness, figure and bikini superstars battle for supremacy during the industry's biggest weekend of the year. Defending champions (Arnold Classic Bodybuilder Winner Branch Warren, Fitness International Winner Adela Garcia, Figure International Winner Nicole Wilkins and Bikini International Winner Nicole Nagrani) all return in hopes of defending their crowns and taking home part of almost $500,000 in prize money up for grabs.
Presented by MuscleTech, Bodybuilding.com's worldwide coverage begins on Friday, March 2nd with the women's events and continues Saturday afternoon with complete coverage of the Arnold Classic Bodybuilding prejudging and Saturday night's main events. Calling the action is veteran hosting team Dan Solomon and Bob Cicherillo. Bodybuilding.com also welcomes IFBB Bikini Pro Tabitha Klausen-Leandri and IFBB Figure Pro Brooke Erickson to provide analysis for the women's events.
The full webcast schedule is as follows:
Friday, March 2, 2012 - 6:30 p.m. (U.S. Eastern time)
Ms. International Bodybuilding, Fitness International and Figure International Finals
Saturday, March 3, 2012 - 2:00 p.m. (U.S. Eastern time)
Arnold Classic Bodybuilding Men's Prejudging and Bikini International Prejudging
Saturday, March 3, 2012 - 6:30 p.m. (U.S. Eastern time)
Arnold Classic Bodybuilding, Bikini International and Arnold Strongman Classic Finals
In addition to the webcast, Bodybuilding.com is offering event previews, schedules, lineups, photos, exclusive reports and exclusive interviews with Arnold Schwarzenegger on their online Arnold Sports Festival Feature.
To view the free, live webcast and get more information, go to http://www.Bodybuilding.com/Arnold.
Bodybuilding.com offers more than 13,000 health and fitness supplements and accessories to help more than 11 million people every month achieve their health, fitness and appearance goals. The website contains more than 35,000 pages of free information, including more than 20,000 articles and videos, expert online trainers and new content added daily.
# # #