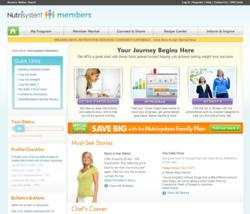 With about one-third of U.S. adults suffering from obesity according to the Center for Disease Control, Nutrisystem decided to change the way people interact with and gain access to information on its community site.
Fort Washington, PA (PRWEB) February 22, 2012
Nutrisystem, Inc. (NASDAQ: NTRI), the leading home delivery weight loss program, is proud to announce the launch of its new and significantly enhanced community site (http://online.nutrisystem.com). With about one-third of U.S. adults suffering from obesity according to the Center for Disease Control, Nutrisystem decided to change the way people interact with and gain access to information on its community site. By not only improving the content and tools but also opening up the site in ways it has never done before, the Company hopes to provide a useful resource to the millions of people in this country who are looking for ways to lose weight and get healthy. Previously Nutrisystem's community was only available to dieters who registered for its site or who were on a Nutrisystem® program.
The new Nutrisystem community is structured with three levels of access:

Guests: For the first time, Nutrisystem is opening up its community to allow the public to take advantage of its nutrition and diet content, with no requirement that guests register.
Members: People who are willing to register on the site, will gain access to more content, tools and the ability to interact with other members of the community.
VIP Members: Dieters already on a Nutrisystem program – known as Nutrisystem VIP Members – are provided with a robust suite of tools, information and interaction in the new community.
"Obesity and the range of medical issues associated with it has become a national health emergency," noted Christy Monaghan, Vice President of eCommerce Product Management and User Experience at Nutrisystem. "We recognize that often times the journey to a healthy weight begins at the keyboard as dieters search for information, solutions and support from people they can relate to. That's why we've re-designed our community site in a way that makes it not only more accessible, but also a more useful tool to help people begin their journey back to health. Statistics show that losing just 5 percent of one's weight can have a clinically significant impact on a person's health. We hope dieters will come to our site for the information, tools and community that will help them get healthy."
Nutrisystem believes the combination of its proven weight loss principles and community involvement can be a powerful tool for those who want to lose weight. Studies have shown that people who tackle weight loss with others – friends, family members, even dieters they've never met – have greater success than those who try to go it alone. According to a survey conducted by National Business Research Institute, dieters following a Nutrisystem program reported losing 43% more weight than people dieting on their own.* Simple steps like tracking your diet online have also shown to improve how dieters fare while shedding pounds.
"I have dieted in secret before and it never worked," said Vicki Baughman, who lost 70 pounds on Nutrisystem and is an avid community member. "On the Nutrisystem community, I set goals, track them, learn about nutrition and activity levels and most importantly share my story. Behind every pound I've lost there is the unbelievable cheering squad of other Nutrisystem members who opened up their hearts and have shared this journey with me."
Nutrisystem drew on feedback and polling conducted within its community to re-design the site and add new features. Enhancements include the new My Program section which gives the dieter specific information about what they need to do each day to stay on the program in an easy to understand encapsulated view; greater social media integration to give dieters the opportunity to engage with an even broader group of friends through Facebook, Twitter and Google+; expanded commenting throughout the site; and re-organized content to make sure that helpful information surfaces fast and is easy to find.
Nutrisystem said that further or additional enhancements to the site would continue in the coming months as new features are added.
2009 National Business Research Institute survey, funded by Nutrisystem. Nutrisystem customers lost an average of 30 pounds verses self-dieters who lost 20 pounds.
About Nutrisystem, Inc.
Nutrisystem, Inc. (NASDAQ: NTRI) is the number one home delivery weight-loss company. Nutrisystem® products are sold direct to the consumer through nutrisystem.com, by phone, and at select retailers, with convenient home delivery. The Company offers proven nutritionally balanced weight loss programs designed for women, men, and seniors, as well as the Nutrisystem® D® program, specifically designed to help people with type 2 diabetes who want to lose weight and manage their diabetes. The Nutrisystem program is based on 40 years of nutrition research and the science of the low glycemic index, and offers a variety of great tasting, satisfying, good carbohydrate meals that are designed to be heart healthy. The program was named the "Least Expensive Home Delivery Program" by CBS Money Watch in January 2011. The program has no membership fees and provides weight management support and counseling by trained weight-loss coaches and online and mobile weight management tools free of charge. Nutrisystem proudly supports the American Diabetes Association in its movement to Stop Diabetes™, as well as to help in increasing awareness of the correlation between weight loss and improvements in diabetes control. For more information or to become a customer, visit http://www.nutrisystem.com or call 1-800-435-4074. For the healthcare professional, please visit http://www.nutrisystem.com/hcp. Follow Nutrisystem on Twitter @nutrisystem and on Facebook at http://www.Facebook.com/nutrisystem.
###