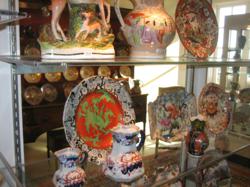 The Antiques Show will feature a diverse range of antiques from the 17th to early 20th century, including American, Asian and European furniture, silver, decorative and fine arts, ceramics, vintage jewelry and clothing.
Charleston, S.C. (PRWEB) February 23, 2012
The 9th Annual Charleston International Antiques Show, March 23-25, 2012, is a premier destination for antiques collectors and enthusiasts who enjoy incorporating these objects into modern-day decor. Presented by Historic Charleston Foundation, the Antiques Show will feature some of the nation's foremost antiques dealers with a diverse range of antiques from the 17th to early 20th century, including American, Asian and European furniture, silver, decorative and fine arts, ceramics, vintage jewelry and clothing. This year's location, Memminger Auditorium, 56 Beaufain Street, highlights the show's theme, "Classic Design, Timeless Style."
Guests will have an opportunity to purchase and learn more about everything from exquisite furniture and fine art to rare maps, jewelry, posters, prints and quilts. Antiques Show events include:

Collectors Circle: Weekend package includes: early admission to the opening night Preview Party, 6 p.m., unlimited daily admission to the show, unlimited access to the exclusive Withdrawing Room and invitations to three private parties. Tickets are $600 ($200 of which is tax deductible).
Opening Night Preview Party(March 22, 7 p.m.)—This spectacular event will kick off opening night with cocktails, hors d'oeuvres, and entertainment. Set amid magnificent booths and an energetic atmosphere, the Preview Party gives guests the first view of the show before opening day. Tickets are $200 ($50 of which is tax deductible).
Young Advocates Soirée (March 22, 8 p.m.)—Join the Young Advocates for cocktails, hors d'oeuvres and entertainment during Charleston's most stylish "after party" in the heart of the city's antiques and design district. General Admission tickets are $75. For Young Advocates, tickets are $65 for the Soirée or $100 for a combination ticket, which includes an exclusive invitation to the Preview Party for the first hour, 7-8 p.m.
Luncheon Lecture: "Timeless Elegance" (March 23, 12:30 p.m.)—Guest speaker, David Easton is one of the world's most sought after interior designers. While he made his name as a neo-classicist, Easton has shifted to a more streamlined, contemporary aesthetic in response to his own changing tastes and those of his clients. Easton was named to the Interior Design Hall of Fame in 1992, and his peers recently honored him with the Lifetime Achievement Award at London's Design and Decoration Awards. In 2010, Easton was named to Architectural Digest's Top 100 Designers for the tenth time. Tickets are $75.
Behind-the-Scenes Tour (March 23, 9 a.m.)—Guests will learn more about the world of antiques, the art of collecting, and how to incorporate historic objects with contemporary design during educational and entertaining tours of the show led by antiques and decorative arts experts. Tickets are $25.
"It Once Was Modern," Study Tour (March 24, 10:30 a.m.–12 p.m. and 1:30–3 p.m.)—Join experts for a tour of private collections and an exclusive look at objects considered the most fashionable in their own time. Learn how these designs have remained decorative icons and inspirations throughout the 18th and 19th centuries and why they are still relevant and sought after today. Tickets are $45.
Show Hours—Fri. and Sat. 10 a.m.–6 p.m., Sunday 11 a.m.–5 p.m. Tickets are $15. In addition to the show, Charleston's premier food truck, Pot Kettle Black, will be parked at Memminger Auditorium during lunch hours.
Learn more about the Charleston International Antiques Show at, http://www.historiccharleston.org/AntiquesShow or call, 843-723-1623.
About Historic Charleston Foundation
Established in 1947, Historic Charleston Foundation (HCF) is a nonprofit organization whose mission is to preserve and protect the historical, architectural and material culture that make up Charleston's rich and irreplaceable heritage. The Foundation is known for its preservation and advocacy programs including protective covenants and easements; education and outreach; and it is the first organization in the country to establish a revolving fund to acquire and preserve important buildings, a model now replicated in historic communities across the nation. Preservation coupled with education and outreach is at the heart of the HCF mission. This mission is supported through the generosity of preservation-minded donors, the Annual Spring Festival of Houses and Gardens, the Charleston International Antiques Show, a licensed products program, and retail shops. In addition, HCF fulfills its educational mission through the interpretation of its collections and two museum sites: the Nathaniel Russell House, c. 1808, and the Aiken-Rhett House, c. 1820.
###