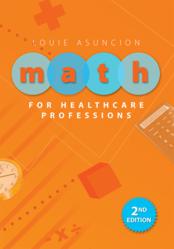 This book offers a refresher course for anyone re-entering the medical field or simply as a reference guide to have on hand.
Waco, TX (PRWEB) February 23, 2012
Healthcare professionals often are required to do various math problems, but how can students better learn the math skills they need and professionals retain that knowledge?
From author Louie Asuncion and TSTC Publishing comes the second edition of Math for Healthcare Professions. Made to be used long after leaving the classroom, Math for Healthcare Professions was written primarily for students but can be used as a refresher course for those re-entering the medical field or as an on-hand reference guide.
Math for Healthcare Professions covers topics such as roman numerals, fractions, decimals and percents, ratios and proportions, dimensional analysis, time conversions and temperature conversions, with exercises at the end of each chapter. The book also includes a math assessment test and answer key.
Asuncion is an associate professor of health occupations and the lead instructor of health professions and related services at Del Mar College in Corpus Christi, Texas. He began teaching after retiring from 24 years of service in the U.S. Navy as a hospital corpsman, aviation medicine technician, hospital corpsman instructor and independent duty corpsman. Asuncion has taught at Del Mar College for 10 years.
TSTC Publishing was established in 2004 as the publishing arm of the Texas State Technical College System. TSTC Publishing offers authors throughout the country the opportunity to initiate and participate in a variety of book development projects. TSTC Publishing projects now include such ancillary products as instructor guides, student workbooks, CD-ROMs, DVDs, ebooks and companion websites. In addition to offering editorial help and guidance to faculty, assistance also is available in the areas of materials production, distribution and sales.
The book retails for $9.95 and is available at major book retailers, including Amazon and Barnes & Noble. The book also can be ordered directly from TSTC Publishing.
For more information visit http://publishing.tstc.edu.
###