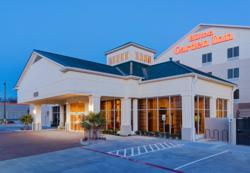 "The airy pavilion lobby, combined with comfortable guestrooms, convenient guest services, and a friendly hotel staff make our hotel an ideal choice for travelers to El Paso" - Jeff Blackman
El Paso, TX (PRWEB) February 23, 2012
Travelers to The Sun City have an enticing new option for lodging: Operated by Texas Western Hospitality Management (TWH), the Hilton Garden Inn El Paso Airport hotel offers the latest amenities and services sought by business and leisure travelers. In securing this management post, TWH and Hilton build on a successful relationship.
Just minutes from the El Paso International Airport, City Centre, and downtown El Paso, the Hilton Garden Inn El Paso Airport offers an upscale yet affordable lodging experience.
"The Hilton Garden Inn El Paso Airport is in close proximity to many corporations, museums and attractions, including Boeing, Cardinal Health, Tyco, Biggs Field, Border Patrol Museum, El Paso Holocaust Museum, El Paso Museum of Art, University of Texas at El Paso and Fort Bliss Army base," said Jeff Blackman, Executive Vice President, TWH.
Onsite, guests have multiple dining options. The Great American Grill® restaurant serves breakfast, cocktails, dinner and evening room service. Of note is the full breakfast menu, featuring omelets, fruit, breads and Hilton's signature waffles. The Pavilion Pantry® is open 24 hours and features both freshly made and prepackaged snacks and meals, as well as beverages.
The property also showcases more than 2,800 square feet of meeting space, including a ballroom and multiple breakout spaces. With great flexibility, the venue is ideal for meetings or receptions. The light filled pavilion lobby offers a lounge area with television and fireplace, and WiFi is available throughout the property.
Each of 145 guest rooms feature the brand's signature Garden Sleep System® bed. A "hospitality center" includes a mini fridge, microwave oven and coffee maker. Business travelers take comfort in work stations with ergonomic Herman Miller Mirra® desk chairs, two speaker phones, data ports and voice mail.
Also appreciated by business travelers, the 24-hour business center features Print Spots™ wireless printing from any laptop or smart phone. In addition, a state-of-the-art fitness center features a swimming pool and whirlpool.
"The airy pavilion lobby, combined with comfortable guestrooms, convenient guest services and a friendly hotel staff make our hotel an ideal choice for travelers to El Paso," said Blackman. "No matter the reason for travel, we ensure our guests have everything they need."
The Hilton Garden Inn El Paso Airport is located at 6650 Gateway Blvd. East in El Paso. Texas Western Hospitality, the management arm of Western International, is a lodging management company with more than 30 years of successful history in hotel development and operations. Headquartered in Dallas, Texas, TWH manages many of the finest brands, including Marriott and Hilton. TWH has grown to become one of the most respected lodging management companies in the United States, operating over 50 properties with more than 6,000 guest rooms in seven states.
###