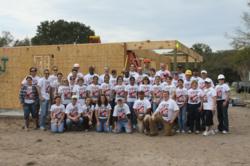 "I am so proud of this company and the overwhelming dedication of our team members to their local community." Tom Wallace, CEO of VectorLearning
Tampa, FL (PRWEB) February 23, 2012
VectorLearning, comprised of design and construction eLearning leader RedVector and Care2Learn, the definitive online continuing education provider for the post-acute care industry, takes its core values seriously. Two of those—Integrity and Teamwork—were in abundance on February 9, when nearly half of the company's team members showed up to volunteer their time and positive energy at a Habitat for Humanity build in Tampa.
This will mark the sixth consecutive year VectorLearning has volunteered for Habitat for Humanity, a non-profit volunteer-driven cooperative dedicated to providing "safe, decent and affordable shelter" for individuals and families in need.
"I am so proud of this company and the overwhelming dedication of our team members to their local community," says VectorLearning CEO Tom Wallace. "Seeing them give their all at the office every day, and then volunteering their time and energy at events like this, it's just such a positive message, and that's what VectorLearning is all about—working hard, giving back, and making a positive impact."
The corporate culture of VectorLearning is deeply rooted in its commitment to giving back to the community, and its philanthropic history has included actively supporting organizations such as Habitat for Humanity, Susan G. Komen, and Metropolitan Ministries.
About VectorLearning
VectorLearning sets the standard for excellence in online continuing education and training for licensed and certified professionals in the engineering, architectural, construction (AEC) and post-acute healthcare industries. With an online library exceeding 1,400 courses authored by more than 200 subject matter experts and spanning all 50 states, VectorLearning serves more than 300,000 working professionals. The recipient of numerous community honors and industry awards, VectorLearning was founded in 1999 and is headquartered in Tampa, Florida. For further information call 1-866-546-1212 or visit http://www.VectorLearning.com.
###