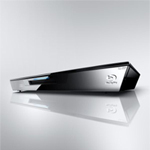 It (sony bdp-s790) can take HD content all the way to 4K resolution. This is about 4X upscaling so major deal if you can find a display with a high enough resolution to display it
Atlanta, GA (PRWEB) February 23, 2012
Burden and other 10Rate reviewers selected 10 of the best Blu-Ray players that showed the greatest technological advances and connectivity options. Other features the editors considered in the rankings were:
1. User-friendly interface
2. Sleek, compact design
3. Stunning full HD 1080p video
4. Ability to access personal photos, videos, and files on USB storage devices
5. Fast streaming capabilities
6. Rich audio that enables surround sound
7. Quick boot-up and loading
8. Built-in Wi-Fi
9. Multiple HDMI inputs
The 2012 Top 10 Best Blu-Ray Players awards list was topped by the Sony BDP-S790 Review winning the top quality spot and a 9 out of 10 rating. The review noted several strengths of the player including the following exerpt, "It can take HD content all the way to 4K resolution. This is about 4X upscaling so major deal if you can find a display with a high enough resolution to display it. It has the Wifi compatibility to allow connection to broadband and with that comes lots of Internet TV options like Neflix, music services through the Sony Entertainment Network …"
Sharing a spot in the Top Quality awards for the companies Top 10 list is the Samsung BD-E6500 Review for which editors write, "If you have a large DVD collection already, you'll be happy to be able to store them in a digital format and view them in a pristine HD 1080p resolution anywhere you go. Searching for more video content is easy thanks to a full web browser; friends and family can also access your HD movie collection using your account information."
Next, in the companies top awards the Best Value from the Best Blu-Ray Player Reviews was the Panasonic DMP-BDT210 Review. Commentary from the review of this maker comment, "The Panasonic BDT210 is a 3D Blu-Ray player that grants you access to 100s of apps and programs. Search for entertainment content online through the web browser, upload your own videos and photos with a USB drive, or play Blu-Ray and DVD discs."
The best budget machine as rated by the authors was another the LG BD630 Blu-Ray which editors noted is strong in areas aside from pricing such as the following:
"The LG BD630 is an affordable Blu-Ray player at $59.99 that still offers enviable streaming capabilities. It connects to video streaming programs like Netflix, CinemaNow, VUDU, and YouTube for fast movie access. Additionally, you can insert USB storage devices to the port in the front and pull up your own video content and photographs."
Panasonic, Samsung and Sony all had two entries in the Comparison Blu-Ray Player Reviews. The top price among the products listed at $499 while the lowest priced unit was $59.
10rate.com conducts reviews in various product and services categories and publishes "Expert Top 10 Lists for Everything in your life." The company's web site strives to "Make it Easy" to select from the hundreds of choices there are in the product and service market place. All products and services are thoroughly researched by the companies expert editors prior to receiving a rating on a 1-10 scale. In addition to product reviews the companies editors write guidelines, buying guides and articles on various topics surrounding each product or service category covered to help educate the consumer.
###