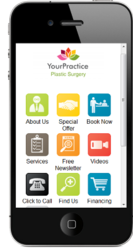 Communicating to my existing patients is easier and much cheaper than constantly trying to find new ones.
Boise, ID (PRWEB) February 23, 2012
"Communicating to my existing patients is easier and much cheaper than constantly trying to find new ones," say Dr. Brett Troyer, a Boise Idaho Sleep Specialist. "MedMarketer's simple solutions keep my patients connected to me, which is important."
"More and more patients own smartphones, and PracticeApps™ put a medical practice directly on their patient's home screens, making it easier for them to book appointments" said Phil Gorman, President of MedMarketer. "What's unique about our mobile apps is that they are designed for use by a practice's existing patient base, and operate on any mobile web platform."
According to Nielsen, as of Q4 2011, 46 percent of US mobile consumers had smartphones, and that figure is growing quickly. In fact, 60 percent of those who said they got a new device within the last three months chose a smartphone over a feature phone.
Through a medical practice's App, patients can access practice hours, maps & directions, finance calculators, lists of services, social media sites, videos, event registrations, physician bios, appointment schedules, one touch calling and much more. MedMarketer's PracticeMail™ email marketing program empowers practices to easily promote and distribute their custom PracticeApps™, along with other templated communications, such as newsletters, special offers or announcements.
MedMarketer charges a one-time set up fee of $499 for the design and build of a custom App & email template, and just $99 per month for hosting, unlimited updates, and email marketing to up to 500 subscribers. To purchase MedMarketer's solutions, visit MedMarketer.com or their mobile site m.MedMarketer.com.
About MedMarketer
MedMarketer provides cloud based marketing solutions for medical practices, including the design and build of mobile Apps and email marketing campaigns. MedMarketer also assists pharmaceutical, medical device and financial services companies in the promotion of their products and services through the medical practice channel. For more information, visit http://www.Medmarketer.com.
###