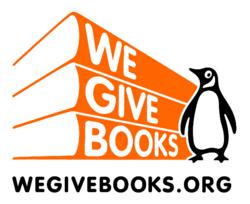 New York, NY (PRWEB) February 21, 2012
Less than a week after announcing its first-ever national Read for My School campaign, We Give Books announced today that participants successfully reached the goal of 150,000 children's books read online—all in just five days. The effort will result in the donation of 150,000 new hardcover and paperback children's books to more than 700 public elementary schools designated by readers across the United States.
We Give Books, the digital literacy initiative from the Pearson Foundation and the Penguin Group, gives students, teachers and families access to a digital library of world-class children's books. Simply by reading online at http://www.wegivebooks.org, anyone can help give a book to one of many literacy-based charities from around the world. For the first time, the Read for My School campaign allowed readers nationwide to direct donations to their own schools.
We Give Books estimates that more than 50,000 people participated in this online reading celebration. Schools from all 50 states participated; some of the top-reading schools include: Westlawn Elementary School (Mobile, AL), Vero Beach Elementary School (Vero Beach, FL), Bessie E. Owens Intermediate (Bakersfield, CA), Lincoln K-8 Choice Elementary (Rochester, MN) and Stillmeadow School (Stamford, CT). Each school will decide how to distribute the children's books it receives: adding them to its own school library, sharing them with students, or donating them to local community organizations, for example.
"We Give Books is the most unique program to teach two of the most important skills, reading and giving," said Betsy Hall, media specialist, Imagine Schools Lakewood Ranch (FL). "We are incredibly grateful to the Pearson Foundation for the opportunity to participate in Read for My School. All of our students will benefit from the donation of quality children's books."
"We Give Books' mission is simple: we want to share the love of reading and to teach the importance of giving," said Pearson Foundation President and CEO Mark Nieker. "The national response to Read for My School shows how strongly We Give Books' readers feel about giving in their local communities. The impact of this campaign will be felt long after the books have been delivered—in schools, homes and local community centers."
Since We Give Books launched in 2010, the Pearson Foundation and Penguin have donated nearly 825,000 books to schools and nonprofit organizations designated by readers who read from a free digital library of children's books at http://www.wegivebooks.org. We Give Books works with exemplary literacy partners in the United States and around the world to put books into the hands of children and families. To learn more about these partners, including Room to Read, Books for Asia, Harlem Children's Zone, and Jumpstart, visit http://www.wegivebooks.org/campaigns.
About We Give Books
We Give Books is a philanthropic program from the Penguin Group and the Pearson Foundation that helps children become lifelong readers and givers. Together, the Penguin Group and the Pearson Foundation support literacy through programs that engage entire communities. Working around the world through programs like Booktime and Jumpstart's Read for the Record, Penguin and the Pearson Foundation have touched millions of lives in thousands of communities. To learn more about the We Give Books program and its nonprofit literacy partners, go to http://www.wegivebooks.org.
About the Pearson Foundation
The Pearson Foundation, a 501(c)(3) nonprofit, extends Pearson's commitment to education by partnering with leading nonprofit, civic and business organizations to provide financial, organizational and publishing assistance across the globe. The foundation aims to make a difference by sponsoring innovative educational programs and extending its educational expertise to help in classrooms and in local communities. More information on the Pearson Foundation can be found at http://www.pearsonfoundation.org.
###