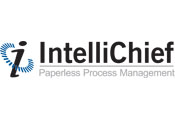 Because finance professionals work with a tremendous amount of documents that need to be carefully managed, it's important to take control over document organization and processes
Mansfield, MA (PRWEB) February 22, 2012
IntelliChief LLC, the leading provider of document management and document imaging solutions for the IBM i (System i, iSeries, AS/400), today announced the development of the IntelliChief solution for finance.
Creators of IntelliChief's document management solutions realize it is imperative for finance professionals to have control over document processes. IntelliChief comes into play by organizing and grouping documents intelligently by client name, tax year, or other. It helps users manage what information the team shares, how it's reviewed, and allows for easy approval of critical financial documents. Users can also flag priority documents needing review and add custom annotations to make documents easier to find.
"Because finance professionals work with a tremendous amount of documents that need to be carefully managed, it's important to take control over document organization and processes," said Brian Smith, Director of Marketing at IntelliChief. "IntelliChief is excited to be able to offer our finance customers a paperless solution designed particularly for their finance processes."
Electronic document management solution adopters are able to use powerful features, such as IntelliChief Workflow, to help manage documents through the approval process. Additionally, users can manage finance documents from the browser, desktop, or even from Apple, Android, or Windows Mobile devices.
About IntelliChief
IntelliChief, is the leading provider of Paperless Process Management (PPM) solutions for the IBM i (System i, iSeries, AS/400) Enterprise. With decades of expertise in the market and seamless integration with leading ERP software vendors, IntelliChief takes companies of all sizes paperless with a typical ROI of less than one year. Users can create, capture, manage, archive, retrieve, and distribute mission-critical documents directly from their familiar ERP screens, eliminating the need for filing cabinets, storage facilities, fax machines, copiers, and paper files.
###