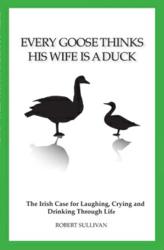 "We Irish will never achieve anything, but we are the greatest talkers since the Greeks." - Oscar Wilde
(PRWEB) February 23, 2012
In his new collection of unusual Irish quotes, "Every Goose Thinks His Wife Is A Duck" (published by Ireland Fun Facts through Createspace), author Robert Sullivan has created a unique new look at the most fascinating things said by and about the Irish down through their colorful history. With lesser-known quotes from as far back as the 1st century on through the struggles of British domination, the famine, emigration to America and the modern day rise of the "Celtic Tiger" and it's hard fall from grace, "Every Goose Thinks His Wife Is A Duck" touches on everything that it means to be Irish, or to be touched by Ireland's culture.
Sullivan has been exploring Ireland's culture since visiting his grandfather's home town in a remote corner of County Kerry in 1975, an experience he says he "never quite got over." Staying with his aunt in a rural cottage nestled on a mountainside by the Atlantic Ocean, he became fascinated by the Irish and their obsession with the art of conversation.
In this new book, the author "steps aside and lets the Irish tell their own story." Titled after an old proverb "Every Goose Thinks His Wife Is A Duck" takes a deep dive into lesser-known quotes by Irish writers, scoundrels, poets, politicians and ordinary people. What results is a fun and informative read covering the history of the Irish at home and abroad that shows why this little nation has developed a powerful voice in the world.
From Ireland's top practitioners of the clever phrase - Wilde, Shaw, Swift and Beckett - to modern voices like Frank McCourt, Liam Neeson and even New York mayor Mike Bloomberg, "Every Goose Thinks His Wife Is A Duck" offers a unique walk through the way the Irish see the world, and how the world is influenced by the Irish.
Robert Sullivan is the author of "The Great Little Book of Fun Things You Probably Don't Know About Ireland" and the creator of the popular travel and culture website IrelandFunFacts.com. He lives in the New York area with his wife and two sons, and visits Ireland on a regular basis.
"Every Goose Thinks His Wife Is A Duck Is Available on Amazon.com and also as a Kindle book.
Ireland-Fun-Facts.com is the leading website for Americans who want to explore Ireland's more unique and offbeat qualities.
Createspace, a part of Amazon.com, is the leading platform for self-publishing authors.
###