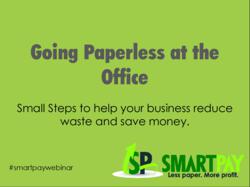 Fargo, ND (PRWEB) February 23, 2012
SmartPay will be hosting a free webinar titled "Small Steps to Going Paperless" this Friday, February 24 at 2:00 pm CST. The online presentation focuses on why businesses should be moving towards paperless operations, the benefits of the switch, and how to implement this type of change in the workplace.
SmartPay strives to deliver an unparalleled customer experience for clients. One of the helpful ways is by providing different resources, such as "Small Steps to Going Paperless" webinar, educational blog posts and infographics for current and potential clients.
Today, many companies are looking for ideas to stay competitive. Reducing paper use in the office is not only helping out the environment, but it can also increase productivity and reduces spending. Attending the webinar on Friday will provide great ideas to take that office from cluttered and wasteful to efficient and environmentally friendly. Register online today. http://info.gosmartpay.com/webinar-pre-registration/
SmartPay is a powerful, flexible, enterprise-level online billing system designed to save your business time and money. SmartPay is a Cloud Based Electronic Bill Presentment and Payment Sass Solution suitable for medium to large businesses. It allows an increase in cash flow by sending large batches of invoices and statements electronically while increasing accuracy and customer satisfaction by allowing customers to pay online easily and securely. For more information about SmartPay, please visit http://www.gosmartpay.com or call 1.866.667.4277. Twitter @_SmartPay_
Suggested Tweet: Sign up for SmartPay's "Small Steps to Going Paperless" webinar. http://ow.ly/9cPQQ
# # #