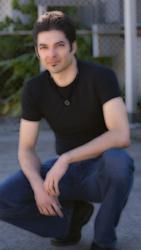 Illustrated Seduction Techniques Outlined in Dating Expert's Guide
San Mateo, CA (PRWEB) February 28, 2012
It's easy to learn seduction techniques, but it does take some time and effort, says Carlos Xuma in a new report.
"Just like anything else in life, learning illustrated seduction techniques takes a bit of effort, but the pay off is worth it," Xuma says in his new report. "By using illustrations in this guide, seduction techniques are easier to learn than ever before. Men can learn just how, when, and where to first touch a woman."
There are different touches appropriate for different moments, Xuma says in his report.
"For instance, the illustrated seduction techniques guide teaches men how to first touch a woman so she is not turned off or put off by the touch. Too many men blow it right at this step because they are not aware of what women want."
Many men think intimate touching will turn on women, but if this comes too soon, all bets are off, Xuma says in his new guide that provides hands on seduction tips.
"There is a point and time for that type of touch, but most men jump the gun and initiate a more intimate touch too early and basically end up alone after that," Xuma says.
In his guide, outlining flirting with women; Xuma gives men several ideas to first touch a woman to spark attraction and interest. For instance, he advocates men learn how to read palms for a few different reasons.
"The hand is a very sensual spot to touch," Xuma says. "In addition, people are fascinated by fortune telling. It has a sense of mystery and fun about it and most women enjoy having their palms read so the man is not only touching her for the first time in a safe way, but also arousing her curiosity and invoking a sense of mysticism."
Xuma's guide details illustrated seduction techniques walks men through that first touch, all the way to the most intimate touching scenarios in an easy to understand format.
"Even a little bit of knowledge about the best way to touch a woman, can help men find success and improve their seduction techniques exponentially," Xuma says.
Xuma has spent years teaching hundreds of men flirting tips for guys and has been a dating expert and attraction adviser for more than 10 years. He has appeared on ABC and CBS television, as well as Playboy radio. He's the author of The Bad Boy Formula, Secrets of the Alpha Male, the Girlfriend Training Program, and numerous other books and articles. He has also been recognized for his work sharing dating advice for guys, gives them free advice on how to attract women, and now provides illustrated seduction techniques.
For more information, visit Carlos Xuma's website at http://www.datingdynamics.com
###