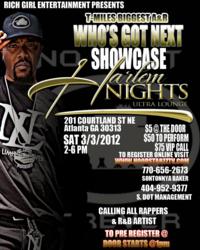 Atlanta,Georgia (PRWEB) February 22, 2012
The 3rd "Who's Got Next" Talent Showcase featuring Head A&R, T-Miles of No Limit Records, and will take place from 2-8pm on Saturday, March 3, 2012 at the Harlem Nights Ultra Lounge in Atlanta, GA. The event will feature a celebrity panel of judges including Denise Stokes of BET, The IXV Agency, and among others. "Who's Got Next" welcomes all rappers and R&B singers to register at Hoodstarzztv.com.
Last year's showcase proved to be a major hit in Atlanta as a record breaking number of artists registered to be a part of the exciting opportunity. Terry Miles, Head A&R of No Limit Records, headlined the event alongside a panel of celebrity judges. Over 90 artists contended for the chance to impress some of the most sought after Label representatives in the music industry.
"Last year's turnout was incredible. With the ongoing search for raw talent, this event provides artists a direct way to gain publicity and showcase their talents." Said JKaren. "Stay tuned" added Schlonda of S Dot Management Group, "We are bringing the showcase back and it's going to be better than ever."
Last year's showcase was held at the Fuzion Lounge in downtown Atlanta. The venue has since been a hot spot for similar showcases and performances, with many event planners hoping for a similar turn out.
With the stakes heating up, the event had to move to a new location. "We held the event at Fuzion twice, now it's time to switch it up." Says T-Miles, A&R and headliner for the showcase. "This time we are going to be at the Harlem Nights Ultra Lounge."
With the excitement already rising, this event is quickly becoming the most anticipated artist showcase of the Year. "This showcase can make dreams a reality." Says J, of J.EntertainmentAtlanta. "J has been on the entertainment scene since 2004 and has worked with the likes of many talented mainstream artists such as Shawty Lo. "We are excited to be a part of this event." Says Kim Williams of Jentertainmmentatl.com, a Entertainment Marketing company based in Atlanta and known for the best entertainment marketing in Atlanta.
For more information on the "Who's Got Next" Talent Showcase, Email hoodstarzztv(at)gmail(dot)com or call 1.888.755.0787
###