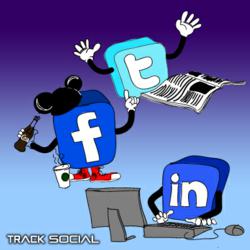 (PRWEB) February 22, 2012
Track Social used its proprietary Social Brand Leaderboards to look at the leading brands by audience on Facebook, Twitter and LinkedIn. The results were expected, yet surprising.
*Facebook is for Brands*
1. Facebook
2. YouTube
3. Disney
4. Coca-Cola
5. MTV
6. Starbucks
7. Red Bull
8. Oreo
9. Converse
10. Skittles
At First Glance: Facebook is used to promote consumer brands that have broad, emotional appeal.
**All Leaderboards in this article are ranked according to the total aggregate audience size of the company on each social media platform (note: it is possible for an individual company to have multiple social media accounts on a given platform). Also note that Track Social does not track individuals or celebrities – it is the premier source of Social Media Analytics for businesses.
When Facebook began allowing companies to set up their own profiles, the real boon for brands was the ability to occupy the same online space as consumers' friends and acquaintances. After all, online space very quickly translated to occupying the same mental space. Consumers could think of their interaction with brands in the same way they thought of their interaction with people: they could have conversations, share content, and exchange information. They could have a relationship with their Fans.
It's no wonder, then, that younger-skewing consumer brands consistently dominate Track Social's Top 10 for Facebook audience numbers. Brands like Coca-Cola, Disney and MTV are best able to exploit Facebook's inherent value proposition and connect to consumers one-on-one through entertaining posts, special content, and exclusive deals.
*Twitter is for News*
1. Twitter
2. CNN
3. YouTube
4. The New York Times
5. Google
6. BBC
7. Apple
8. Disney
9. NBA
10. People Magazine
At First Glance: Whether it's breaking news, sports news, or celebrity 'news', Twitter is for news.
Twitter's infamous 140 character limit doesn't suit everyone. But it does work for pithy headlines, instant updates and late-breaking announcements. That's why news organizations consistently dominate Track Social's Twitter Top 10. Thinking of Twitter as a highly time-sensitive linking service for information and buzz generation will help organizations determine how to approach their Twitter strategies. Without regularly churning out useful new content or posting timely, exclusive deals, Twitter accounts will have little to offer consumers.
*LinkedIn is for High-Tech*
1. IBM
2. Hewlett-Packard
3. Microsoft
4. Accenture
5. Google
6. Deloitte
7. Apple
8. Oracle
9. General Electric
10. Dell
At First Glance: High-tech corporations dominate LinkedIn's top ten.
LinkedIn's special place in the social media pantheon has always been professional networking. Additionally it has been a central source of truth for corporate information, and many companies are encouraging their employees to connect their profiles to the company profile in order to bolster their presence. It is not surprising then that large corporations would dominate the LinkedIn leaderboards. What is surprising is how many high-tech companies are in the top ten – in fact it is dominated by them.
Does this mean if you're not a tech company on LinkedIn or you're not a news outlet on Twitter or a mega-brand on Facebook that these outlets are wastes of time? Of course not. But it does give an overriding indication of how these different platforms are being used. They are distinct ways to reach out to specific market segments – and knowing the strengths and limitations of each platform will better help any organization determine where to put their energy and resources to maximize their social media success.
About Track Social
Track Social monitors, aggregates and analyzes the Social Media accounts of thousands of businesses across multiple social media platforms. It operates around the clock, collecting millions of data elements from social media platforms such as Facebook, Twitter, YouTube and LinkedIn.
For more information about Track Social, please visit http://tracksocial.com/
About Sprokkit
The maker of Track Social, Sprokkit, is a marketing agency based in Los Angeles, California. It prides itself on fusing the logical with the inspirational, and generally making sense out of a world full of nonsense.
For more information about Sprokkit, please visit http://sprokkit.com/