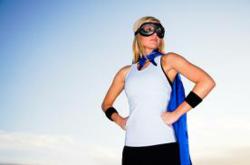 Women will learn how to tap into an inner power that will allow them to live full out and "have it all"…their way. - This the New Superwoman - on her own terms
(PRWEB) February 22, 2012
In the "New Superwoman" telesummit, Karen will share how women can stay connected to the gifts and skills of their femininity, without giving up their authenticity. This enables women to rise to the top of their field and shine as entrepreneurs in their businesses. When this happens, both men and women benefit and business profits increase. It starts with women leading as women, using their unique talents of collaboration, sharing and social recognition.
The ultimate emerging market is women.  It is estimated that women are the "third billion" in terms of impact on the world economy. Women grow businesses at a faster rate than men but then get stuck at a certain point.  Women are being prepared and trained using their unique strengths to come into the global economy and provide a huge economic growth engine.
There is a collective impact to grow women's contribution through their professional life, personal life and through supporting women in entrepreneurship. In this telesummit, hosted by Maribel Jimenez, women will learn how to have more without working harder…and with way more fun! Register here - http://thenewsuperwoman.com/ 
In this telesummit, Karen will teach women the number one hormone that women need in their lives, at all times and tips on how to build that into your daily routine. Women will learn how to tap into an inner power that will allow them to live full out and "have it all"…their way.
Join Karen Leckie as a guest speaker for…The "New Superwoman" Telesummit to hear from women on how they overcame self-sabotage, limiting beliefs, and tapped into their feminine energy to create a balance of peace, playfulness and prosperity in their lives and businesses while serving in an enormous way.
This Free Event is taking place from Feb. 21 – April 5th.
It isn't just a series of interviews, it's a 7-week path to take women from overwhelm to balance and it can happen in minutes. Click here to sign up.
This event is full of valuable tools and strategies that women can apply to THEIR life and business to create authentic and immense success…on their terms. Be ready to be inspired and tap into your own Superwoman!
Click here to sign up for the "New Superwoman" Telesummit for increased peace, playfulness and prosperity in your business and life!
Mars Venus Now
http://www.MarsVenusNow.com
Markham Executive Offices
400-3601 Hwy 7 East
Markham, Ontario
Canada, L3R 0M3
(416)-855-2659
###