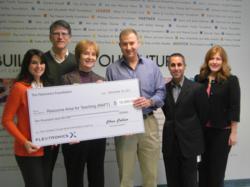 Singapore (PRWEB) February 22, 2012
Resource Area For Teaching (RAFT) and Flextronics (NASDAQ: FLEX) announced today that the Flextronics Foundation has donated $10,000 to support the core component of RAFT's Education program – creatively repurposing materials donated by local businesses into pre-packaged Activity Kits that facilitate hands-on learning of Math and Science. Award funds were presented to RAFT at a ceremony held on Tuesday, February 7, 2012 in San Jose, California.
RAFT's mission is to transform teaching by creating engaging hands-on educational activities that inspire the joy and discovery of learning. RAFT works with more than 10,000 educators in the classroom, home-school settings and after school and community based programs. RAFT's products (Idea Sheets and Activity Kits), professional development services, including mentoring and educational workshops, and low-cost teaching supplies, work together to enrich and improve the education of over 825,000 young people each year.
RAFT Activity Kits are based on more than 650 curriculum-aligned RAFT Idea Sheets that cover a range of grade levels and subjects. The Flextronics Foundation has awarded a total of $25,000 in grants to RAFT since 2008.
Mary Simon, executive director at RAFT, spoke on this occasion, "We are grateful to Flextronics support of hands on education and RAFT."
"Education is one of our primary funding initiatives because it has such a significant, residual impact on our communities, both locally and worldwide. We fully support the work RAFT does toward science and math education, and we are proud to support such an important cause," said Thomas Ezrin, Senior Vice President, human resources at Flextronics.
The Flextronics Foundation supports a range of community development efforts, including initiatives that improve education. The Foundation was established in 2002 and serves as a catalyst for positive change in communities around the world.
###