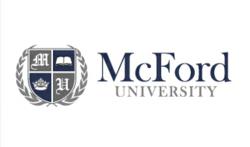 Dallas, TX (PRWEB) February 23, 2012
According to the announcement that was made by the Head of Public Relations McFord University, the increase in the presidential scholarship quota is due to the consent of the president of United States of America, Mr. Barrack Obama. In his speech at a university in Michigan on Jan, 27, 2012, He wanted more American students to acquire higher education and we being a globally known online education university take the responsibility to abide by what he demanded from the American Universities. "McFord University is now increasing its presidential scholarship quota, which will enable more students to enroll themselves in an industry preferred degree program of their choice with us. This increase in scholarship quota will provide the American industry with a bigger number of educated and skilled professionals. Professionals that are empowered with up to date knowledge and communication skills to face the harsh challenges of tough working environments and who can also bring in positive changes to the economy of the country. More over this increase in scholarship quota is not limited to the students in USA only. Students across the globe who want to equip themselves with quality, accredited online education can acquire a scholarship grant from us because the sole reason of the existence of McFord University is to make quality education accessible to all."
Applying for a presidential scholarship at McFord University is very easy. Just log on to their official website and provide details in the following 3 easy steps:

Let us know if you want a scholarship by specifying in the application form
Select the category which describes you the best. For example, if you are a house wife, please select in the fields given.
Complete the admission formalities
McFord University officials will evaluate your application and upon successful evaluation you will be granted a scholarship of up to 90% on your total program fee. This way you will bear very less burden on your pocket to pay your tuition fee and continue education via online medium.
About McFord University
McFord University is an accredited online university that has a wide offering of degree programs that range from under graduate, graduate, post graduate and PHD degree programs. It offers more than 71 majors under 16 schools of study. Students can enroll in the program of their choice by filling out the easy 3 step application form on our official website. The aim of McFord University is to spread quality education to each and every student of the globe; it is therefore the fee structure of McFord University is extremely affordable and way lesser than its traditional counter parts. In order to know more about the degree offerings and their fee structures talk to our helpful academic consultants right away on 1-866-264-2103.
###