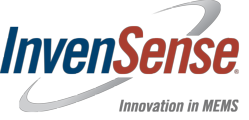 Sunnyvale, California (PRWEB) February 22, 2012
InvenSense, Inc. (NYSE: INVN), the leading provider of MotionTracking™ devices for consumer electronics, is showcasing its latest integrated 6-axis and 9-axis MotionTracking technologies at the Mobile World Congress in Barcelona, Spain, February 27th – March 1st, located in App Planet (Hall 7) 7F24. Motion interfaces have rapidly become a key function in many consumer and mobile electronic devices, such as, smartphones, tablets, gaming, smart TV and many other devices. It provides for a more intuitive way of interacting with your electronic devices, by tracking motion in free space to control or provide input to a variety of mobile applications.
InvenSense will also display its MPU-9150, the world's first fully integrated 9-axis MotionTracking device with MotionFusion™ and factory calibration firmware that eliminates the costly and complex selection, qualification, and system level integration of discrete sensors. The MPU-9150 MotionTracking technology guarantees that sensor fusion algorithms and calibration procedures deliver optimized motion and heading performance needed for gaming, augmented reality and indoor navigation. InvenSense will also demonstrate the IDG-2020/IXZ-2020 family of gyroscopes designed to support optical image stabilization (OIS) in smart phone camera modules. In addition, InvenSense will demonstrate its recently announced health and fitness wearable sensor SDK and its latest motion interface applications including 1:1 movement tracking for gaming and augmented reality, gesture-control for touchless UI, pointing, and tracking solutions for indoor location based services.
Please stop by our booth to speak with our senior executive team, product and technical managers. For more information and product images, please visit InvenSense online at http://www.InvenSense.com.
About InvenSense
InvenSense Inc. (NYSE: INVN) is the leading provider of MotionTracking™ devices for consumer electronics. The company's patented Nasiri-Fabrication™ platform and patent-pending MotionFusion™ technology address the emerging needs of many mass-market consumer applications such as, improved performance, accuracy, and intuitive motion and gesture based interfaces. InvenSense technology can be found in consumer electronic markets including smart phones, tablets, gaming devices, optical image stabilization, and remote controls for Smart TVs. InvenSense is headquartered in Sunnyvale, California and has offices in China, Taiwan, Korea, Japan, and Dubai. More information can be found at http://www.invensense.com.
###