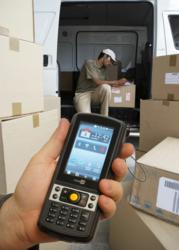 Everything you need and more, the CP30 helps retailers keep up with the fast pace in the retail business and also boosts the efficiency of mobile workers in field.
Plano, TX (PRWEB) February 23, 2012
CipherLab, a leading innovator in Automated Identification and Data Capture (AIDC) for the retail, warehouse, and distribution industries announces today that it's newest Windows Mobile terminal, the CP30, is certified for implementation with the RedBeam Suite of software applications.
RedBeam, Inc. is a leading provider of barcode and data collection software designed to make fixed asset tracking, inventory control, and check in check out processes more efficient.
Hundreds of organizations in virtually every industry use RedBeam to track fixed assets, inventory, parts and supplies – anything with a barcode label. Clients in manufacturing, warehousing, distribution, retail, military, government, education, and healthcare use RedBeam to reduce expenses and increase productivity.
RedBeam's fixed asset tracking, check in check out, and inventory control software products are powerful and ready-to-use right out of the box.
The CP30 is a feature rich offering and is configured with 1-D laser scanning or 2-D imaging capability. The base unit includes: Windows Mobile 6.5, Bluetooth, GPS, WWAN, WLAN, Full color touch display, 3.2 Megapixel camera w/autofocus and Numeric keypad w/backlight. The CP30 is out of the box ready to run all RedBeam applications.
For more details and specifications regarding the CipherLab CP30 series enterprise mobile computer and other CipherLab products, please visit http://www.cipherlab.com.
About CipherLab
CipherLab is a global leader in the design, manufacture, and marketing of Automatic Identification and Data Capture/Collection products and systems. The company's mobile computers and scanners are integrated into the networks of some of the world's best known logistics, retail, distribution, government installations and healthcare companies, helping them run more efficiently and effectively onsite and on the road. Operating worldwide, CipherLab is headquartered in Taipei, Taiwan with offices in China, Germany and the USA, and is publicly traded on the Taiwan stock exchange (Taiwan OTC: 6160).
About RedBeam
Complete and Affordable Management Solutions
RedBeam, Inc. is a leading provider of complete barcode-based software solutions with one objective – to make it as easy as possible for you to do business with RedBeam. With decades of experience in barcode technology, the designers of the RedBeam product line have a product offering that is intuitive, affordable, and complete.

Intuitive – With our easy-to-navigate website, clear demonstrations, user-friendly software, and helpful support, RedBeam strives to exceed your expectations of what a quality product should be.
Affordable – All of our solutions are priced to make it easy for you to justify your return on investment. We have made the decision to use RedBeam an easy one.
Complete – Our solutions offer compatible software, scanners, and barcode labels, so you don't need to look anywhere else.
###