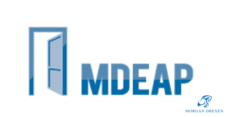 " Consumers are taking the responsible road to resolving their debt, without a job it's tough," says Morgan Drexen CEO Walter Ledda.
Costa Mesa, CA (PRWEB) February 22, 2012
As unemployment rates fluctuate around 9% in the U.S., Costa-Mesa based Morgan Drexen has launched an employment initiative designed to help Americans head back into the workplace.
The Morgan Drexen Employment Assistance Program (MDEAP) is a free service based on referrals from law firms across the nation using the software and paraprofessional support services of Morgan Drexen.
Morgan Drexen uses iCloud-based Internet protocol technology to support attorneys nationwide. These attorneys help American consumers who are facing high levels of debt or bankruptcy. By using automation to catalogue complex documentation law firms can cut costs significantly for their clients.
"As consumers enter into the attorney-based debt resolution program the attorneys we support have reported that many of their clients have lost their jobs and although they have taken the responsible road to resolving their debt, they are unable to continue on the path to financial freedom without a job," admits Morgan Drexen CEO Walter Ledda.
MDEAP helps consumers dust off their resumes and head back into the work place. MDEAP uses a designated recruitment team dedicated to updating resumes and reaching out to employers nationwide.
"Sadly many jobless Americans are overlooked by recruitment and job agencies as they are often minimum wage or below management levels. But if we look in our daily lives we need these people to work as Janitors, food servers and maintenance workers. This program is social justice and I think it is a great idea," says Connecticut Attorney Kim Pisinski.
Jonathan L. is a Baltimore resident who after 6 months of unemployment is eager to get back to work. "With the help of the MDEAP program I hope that I can get back to the non-profit work that I enjoy and get myself out of debt a little quicker. For me it is not only the financial ramifications but also the fact that I loved my job within the non-profit sector. I really appreciate everything that the Morgan Drexen program is striving to help me with," admits Jonathan.
For Paula B. a Southern California resident retirement was supposed to be a time of relaxation and enjoyment but money concerns soon took over her life. "I am 65 and the chances of an agency helping me to find work are very unlikely. I am really excited about the help Morgan Drexen's employment program is offering," says Paula.
Across the nation the job opening to candidate ratio is starting to show a few signs of improvement. These figures provided by the current population survey show the ratio of unemployed workers to job openings was 3.9-to-1 in December, an improvement from the November ratio of 4.3-to-1.
This marks the third year in which the jobs seekers ration was above 4 to 1.
###