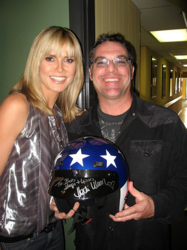 Santa Monica, CA (PRWEB) February 23, 2012
As Santa Monica continues to be the Hotbed for creative content production and advertising, the need for technical facilities to produce and distribute these projects is growing. Loyal Studios is expanding its 19th street studio complex to add an additional self contained high definition sound stage complete with all the latest equipment and components.
With over 1200 commercials, music videos and broadcast projects completed in the last 4 years, Loyal Studios has the experience to build facilities correctly. "We take a comprehensive approach to production" says Bob Bekian CEO of Loyal Studios. Most studios that offer space are very limited in their services, creating a situation where the rental is essentially a room and all of the other aspects needed such as cameras, lighting, crew etc are add-on items. What Loyal studios has done is create a "one stop shop" for production. "We have 75 HD camera systems including the popular RED EPIC'S and the ARRI ALEXA" Bekian adds "and our studios are pre-lit with a 5 ton grip and lighting package included".
Clients are able to source and coordinate their entire logistical requirements through one of Loyal's helpful agents who can book not only the studio, camera and lights, but also coordinate the crew as well as the catering . This concept seems to be growing in popularity as the Loyal Studios calendar is constantly booked. "We offer Producers a hassle free production experience and the ability to control costs and have only one line item on a credit card rather than people running all over town to pick up items needed for a shoot". With this strategy, clients of Loyal can focus on their creative agenda and keep costs down.
The newest studio is equipped with state of the art technical features derived from Loyal's deep production experience.
For more on Loyal Studios visit ww.loyalstudios.tv or call 818 399-9499
###