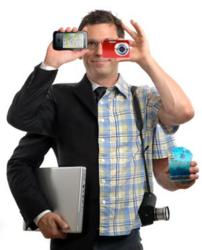 By bringing mobile technology to the floor of The New York Times Travel Show we are inviting travelers to not just read about the latest mobile devices and services, but to experience them first-hand.
NEW YORK TIMES TRAVEL SHOW, NEW YORK BOOTH 271 (PRWEB) February 22, 2012
Travelers will get to try and buy some of the latest mobile devices, apps, gadgets, and digital photo gear at the Connected Traveler Showcase, the first-ever showcase of technology for travelers at The New York Times Travel Show March 2 – 4, 2012 at Jacob Javits Center in New York, Booth 271. Connected Traveler, http://www.connectedtraveler.com, one of the longest-running travel and tech sites online is presenting mobile devices, digital photography and video cameras and apps, augmented reality, travel career education, device accessories, and mobile services that make pleasure or business travel easier, safer and more fun.
AMONG THE EXHIBITORS AT THE BOOTH ARE:
Aurasma, the world's leading augmented reality platform that brings any destination to the palm of your hand: the real world meets the virtual world.
Looxcie, the first handsfree wear-and-share video cam, enabling travelers to stream live to friends anytime from any location or share clips instantly to social networks.
SugarSync, a free service ideal for travelers that enables you to access, sync and share your files across all your computers and devices from anywhere.
TourWrist, enabling travelers to shoot, view and share their 360º vacation panos with the free TourWrist iOS app and helping travel professionals re-purpose their virtual tour panoramic images on http://www.TourWrist.com for free.
Travel and Tourism: Opening Doors for Your Future, an introduction to a career in travel, available as an e-book for students or on DVD for schools.
ZAGG creative device accessories that protect, personalize, and enhance the mobile experience and help you stay connected whether traveling for business or pleasure.
2ReturnMe, a Lost Item Recovery System. Place tags or labels on anything you want back. Finder dials an 800# enters the PIN and is connected directly to you.
"By bringing mobile technology to the floor of The New York Times Travel Show we are inviting travelers to not just read about the latest mobile devices and services, but to experience them first-hand," said Russell Johnson, editor in chief of Connected Traveler.
"Everyone can enhance their travels with technology, including apps that help them learn and prepare for their trip, cameras that capture and share what they see, an d mobile devices and services that keep travelers productive and keep their gear and data safe," said Pat Meier-Johnson, producer of The Connected Traveler Technology Showcase. "We are thrilled to put exciting mobile technology directly in the hands of travelers as well as travel professionals at this prestigious show."
ABOUT THE CONNECTED TRAVELER
For the past 17 years The Connected Traveler has been bringing stories about destinations, personalities, sustainable travel, and technology to readers worldwide. Russell Johnson, a former radio personality, added Connected Traveler Radio to the site in 2005, streaming stories and music from around the world 24 hours a day. Lonely Planet called the site "Armchair Travel at its Best".
ABOUT PAT MEIER ASSOCIATES
Pat Meier Associates is an award-winning PR firm that for more than 25 years has been specializing in public relations and event production for technology, consumer electronics, and travel companies worldwide. http://www.patmeier.com.
ABOUT THE NEW YORK TIMES TRAVEL SHOW
The ninth annual New York Times Travel Show will feature nearly 500 exhibitors representing over 150 countries focusing on travel destinations, packages and special offers, as well as tour operators, cruise lines and live entertainment for the whole family. For more information, visit http://www.NYTimes.com/TravelShow.
The names of actual companies and products mentioned herein may be the trademarks of their respective owners.
###